retailCRM: even more useful chips for client communication
Cooperating with clients using retailCRM became more convenient, faster and safer. New system functions allow to limit call hearing access for certain users, add several emails for a single client and set external numbers for e-stores, integrated with retailCRM.
---
Changes in email sending
Now e-mails from retailCRM are sent through Mandrill service.
The process of sending itself hasn't changed, but it is recommended to adjust SPF and DKIM parameters for mail delivery percentage increase.
Look for more information on adjustment in documentation.
Additional e-mail for a client in retailCRM
A new opportunity to insert several e-mail adresses to the client profile offered in retailCRM.
Now, if a client has got two active e-mails boxes, it is possible to create an additional user field of the e-mail type in his profile. The system will identify it in a correct format and will offer as a recipient when sending an e-mail.
It also works with received e-mails - the system will bind them to the proper client profile automatically.
Mind also, that you can add other user fields for specific situations. Find more about it, and about flexible client profile customization as well, in this article.
Rapid access to e-mail entries in retailCRM
Now all the e-mails in retailCRM, having entries, are marked with a special symbol - grey paper-clip.
This entry symbol is available for e-mails from client profile, as well as from order profile. If you need to find an e-mail with an entry, its enough to look through the general e-mail list and choose more appropriate one.
Effective work with external onlinePBX numbers
A new inlay appeared in onlinePBX integration settings - "External numbers"

The new function will bring a relief to life of those retailCRM users, who have got several e-shops or landings connected at the same time.
What is the main point? You should mind, that changes refer only to onlinePBX telephony. They will be applied to other telephony services integrated with retailCRM in future.
Let's have a look at what exactly changed in a visual demonstration: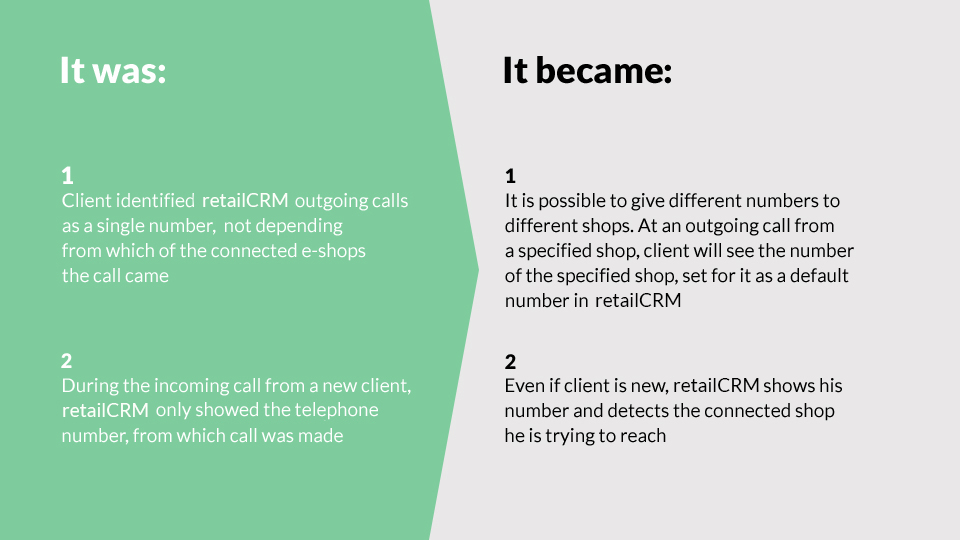 Access limit to call hearing
Now in retailCRM it is possible to adjust which user group can hear all made calls, and which - its group's only.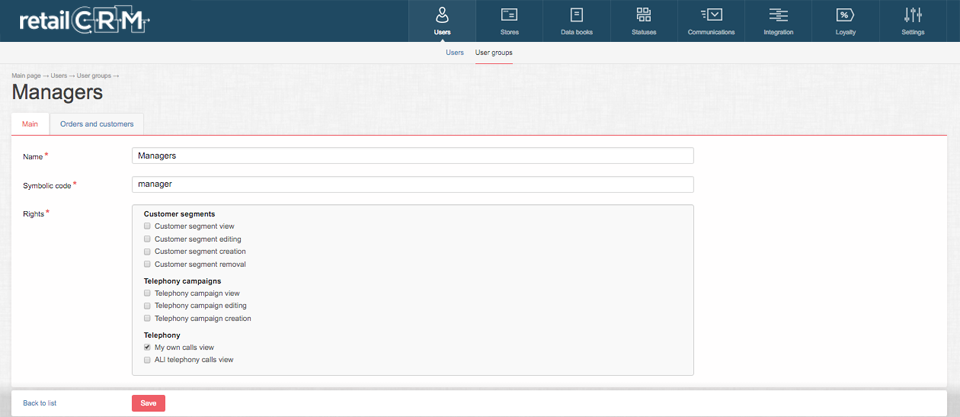 This function will be useful, especially if you company has a complex structure and any information leak can have grave consequences.
So, office members will be able to see records about their clients only, office directors - will be able to look through its office information only (this can be implemented after user segmentation adjustment). And company heads can have access to all the entries, for example.
By the way, in retailCRM it is possible to limit not only call hearing, but also client or order card alteration or wrong delivery date setting. All this can be fulfilled with the help of order management system integrated validation module.
And finally, a small piece of advice from our side to you: start using the new functions in your work right now :)