Happy online customer - 7 steps to an excellent service with the help of retailCRM
Bad service… According to NewSourcing research, 89% of customers who were dissatisfied with an eShop service would never return. How the order should be accomplished in order to leave the customer happy? - Get to know 7 steps of an eShop service improvement.
---
You spend money on acqusition of each customer. Besides, it happens often so that his first order does not cover your advertising expences. If a customer has a negative experience working with you, he will go to competitors. You lose the customer, his repeat sales, his loyalty, you lose the income.
What is a customer waiting for from the service? Not so much: completing the order in time, absence of delays, correct communications. In this article we'll show you how to reach the perfect service level with the help of retailCRM.
1) Correct order distribution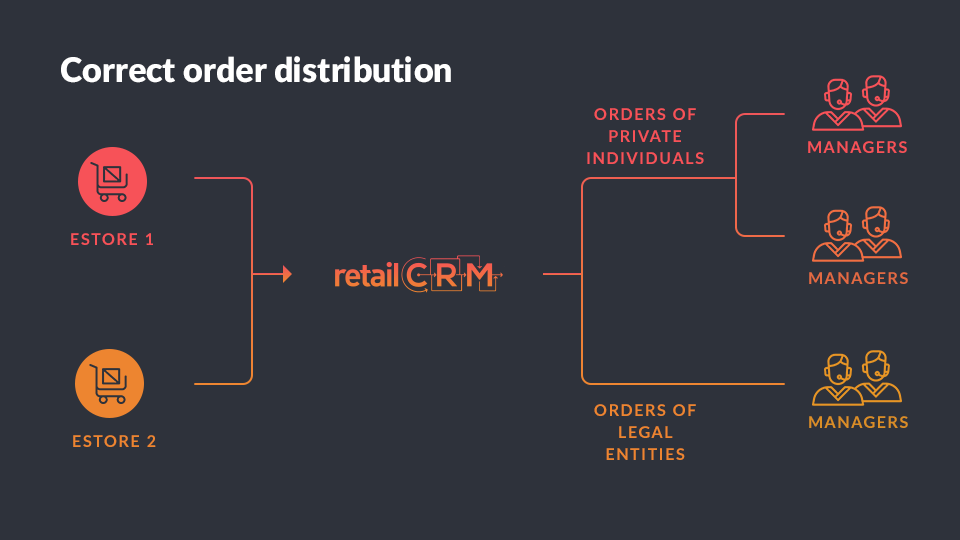 Distribution is the first stage of work with the received orders. Each eShop manager should clearly understand what type of orders he is working with. Otherwise the situations will definitely appear when nobody takes an order expecting others to take. In this way you lose the customer. retailCRM has several variants of order distribution:
depending on the sales channel (eShop site, landing, mobile application and etc. I.e. some managers accept orders only from the site, others - only form the landing page);
depending on the way of registration (e.g. shopping cart orders - for one manager, telephone call orders - for another);
depending on the type of order (e.g. legal entity, private individuals);
depending on the manager assigned (if a customer has already made an order in the eShop then at his next purchase the same manager would be assigned);
depending on the customer importance (a VIP status can be assigned to the customer, the most experienced manager can work with such clients);
turn-based order distribution among managers online (a number of orders can be set that a single manager can handle simultaneously).
Correct order distribution among the managers allows you to understand the responsibility zones for each staff member, eliminates order postponing, managers workload is distributed.
2) Setting up order processing regulations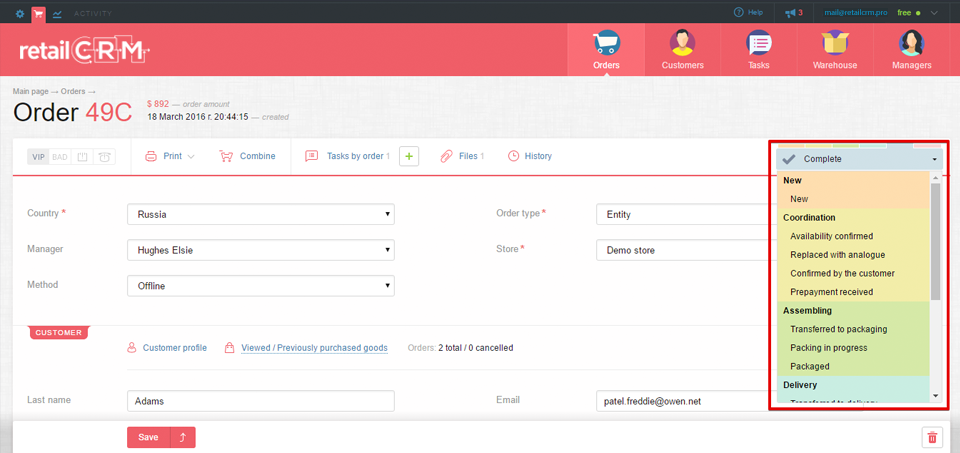 When the manager doesn't have a determined order management procedure he can do whatever he likes. The main thing here for him is to complete the deal. You will never reach the desired customer service and loyalty level with such an approach.
It is possible to set an order processing regulation, in other words - rules for changing order statuses from one to another. With such a regulation manager won't be able to accidently close a new order or schedule a delivery for the items not been packaged yet. Order statuses should be changed gradually without jumps or misses. The determined order management procedure allows to reduce significant mistakes number and leads up to 100% logical deal completion.
3) Setting up time limits on order completion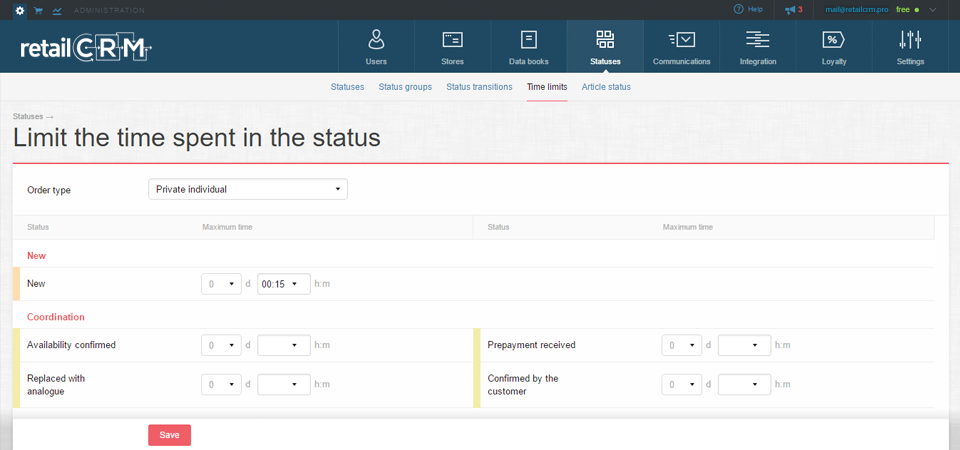 According to LivePerson information 71% of online-customers are waiting for the call back during the FIRST 5 minutes after order submition. Do you control this index? retailCRM allows you to do this.
You can set time limits for each of the order statuses. For example, time limit of 5 min for the order «New» would mean that during this time it is necessary to make a callback to the client and confirm his order, and then set the next status. If the manager doesn't do this Order management system will give him a reminder that the order processing time has expired. This reminder will be shown until the needed action is done.
Time limits usage advantages:
everything is done in time;
it is possible to control the average order processing time;
no need in «pushing» staff members, the system tells about it.
4) Setting tasks and getting order reminders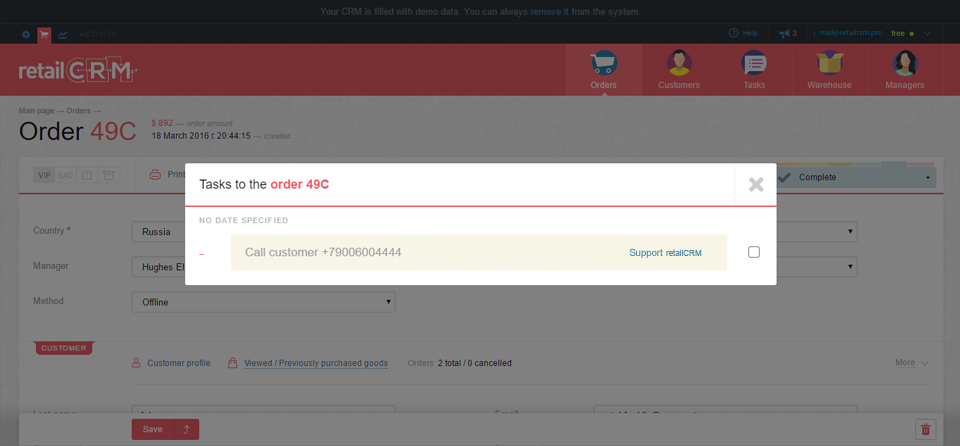 Do you need to make a call back? Specify the goods available in the stock? Making a task on the order or the client. Managers can set tasks as for themselves, as well as for other staff members. At a specified time user gets a notification about what should be done. What do we get as a result? First, we can delegate tasks and trace their completion. Second, now bad memory is not an excuse - you cannot forget the task or miss it.
5) Order management system and IP-telephony integration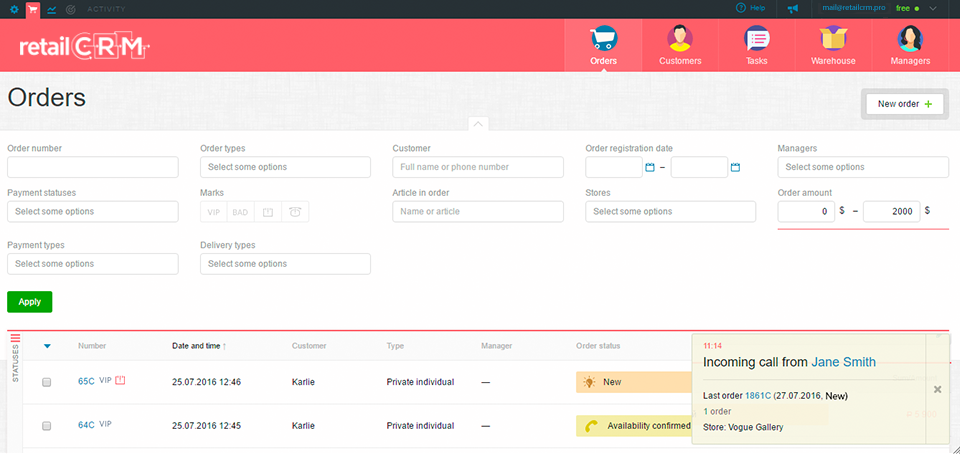 One of the most essential bundles for an eShop work. The majority of our customers use it effectively. What does Order management system and IP-telephony integration give?
customer recognition upon incoming call (initials, previous orders; possible to enter customer card in one click);
fast new client creation (new order creation and customer info fill in one click);
reports on accomplished/missed calls (missed calls and operator work control).
6) Tracking package statuses in Order management system
One more important bundle for optimal back office organization is the Order management system and delivery services integration with which the eShop is working. What does such an integration give?
direct O

rder management system

delivery registration (choosing logistics service, delivery method, address and time);
delivery cost calculation in O

rder management system;

tracking package statuses directly in O

rder management system;

«single window» work (no need to switch between systems).
7) Sending customer order notification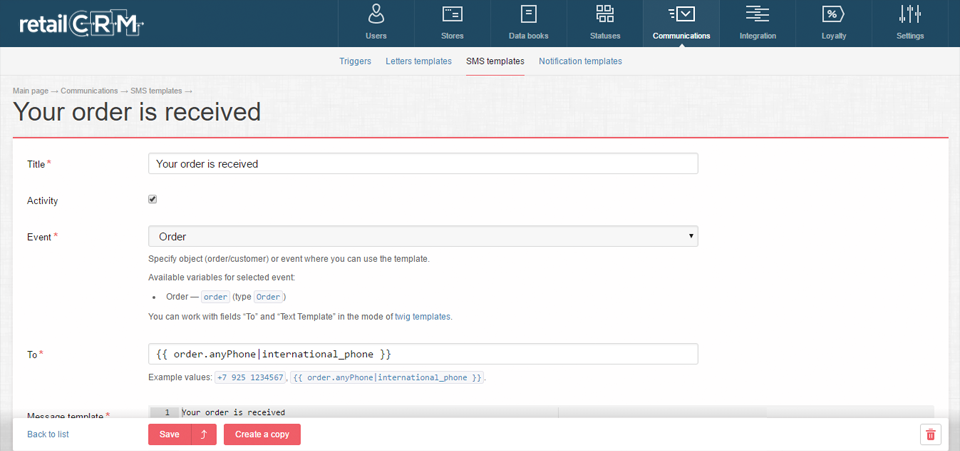 retailCRM allows you to set automatic notifcation sending to customers on their orders. Customers consider such email or sms notifications to be useful. Due to the notifications customers are aware of what is happening with their orders, when to wait for the delivery and etc. This increases customer loyalty and their assurance in your service quality.
The automatic notification sending can be set upon changing any order status. Keep customers aware and exceed their expectations!