retailCRM 5.0 presentation: highlights firsthand
We continue the series of articles with speaker reports from the last conference about e-commerce Order management system implementation practice. Today we present performances of retailCRM CEO Dmitry Borozdin and retailCRM CTO Ilyas Salikhov. The colleagues will speak about most interesting moments of new version, updated tariffs line and also about company plans for future.
---
Dmitry Borozdin,
retailCRM

CEO:

I will begin from a small review of numbers in terms of product development evolution. Data analysis showed that key indicators of medium and small shops in retailCRM have grown 4 times since 2015: active users number, transactions number, monthly processed orders sum, connected shops number. Today we present new retailCRM 5.0 version. A lot of cardinal changes have appeared. By that, minor retailCRM version is updated twice a week. Every day the team of analysts and integrators process a flow of remarks and requests from users on system improvement.
retailCRM

5.0 key updates
New design
Analytic system with subsections, reports and widgets
API development
Marketplace launch
Delivery cost constructor
Geohelper (local time detection by telephone number) and etc.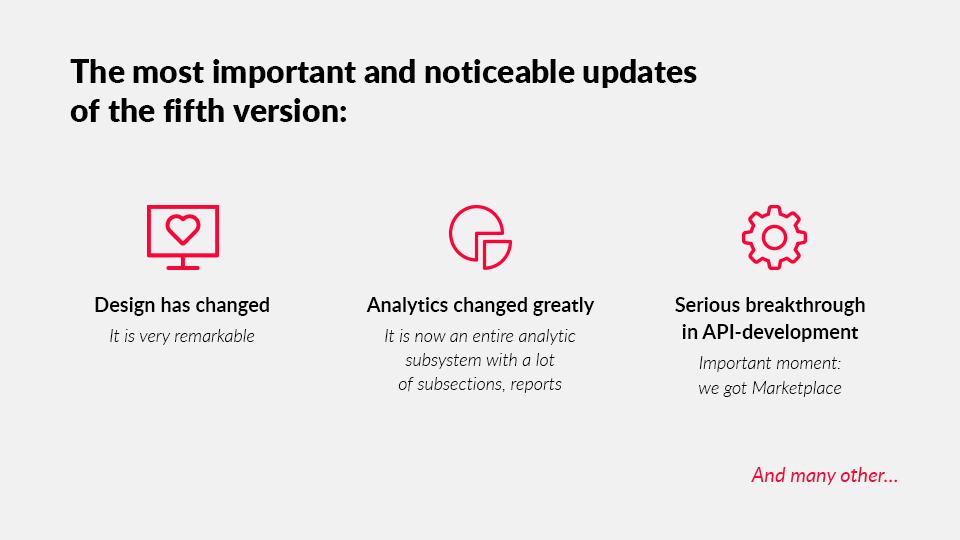 Analytics
Now analytics is an entire subsystem with its own sections. Each of these sections is devoted to one of key elements of Your business: customers, products, managers or orders.
Customer analytics
A lot of interesting indicators appeared in customer analytics work section. One of them — customer "maturation" time. Thanks to Google Analytics integration we can detect customer's first visit date and first transaction date. We take this time, count in the average and get the "maturation" period.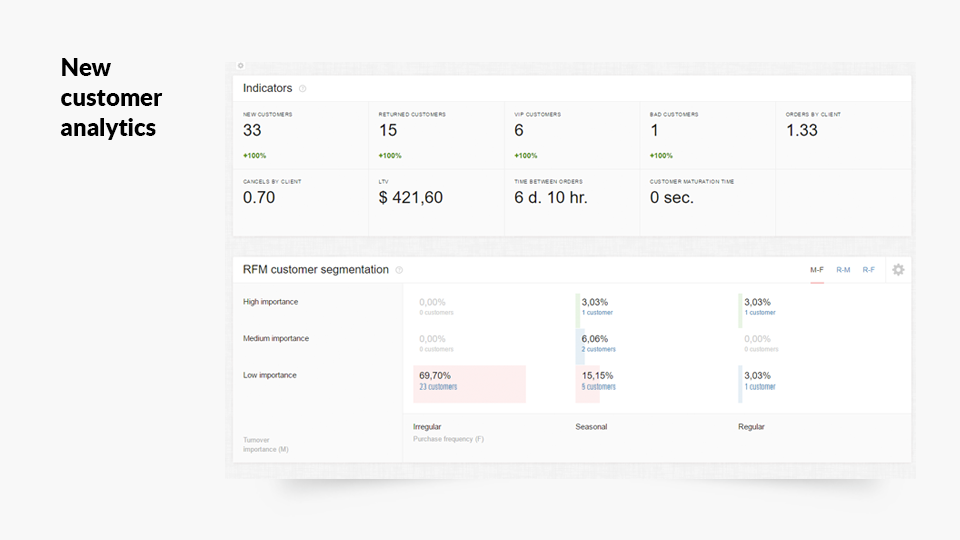 Other useful indicators:
number of orders per customer;
average time between orders;
customer base growth dynamics;
LTV.
What's more, a separate report constructor is available in customer analytics section, which allows you to build source or channel effectiveness reports in view of customer data (average ticket, gross income per customer, number of orders per customer). At any moment you can see which source brings customers with high average ticket and which one with low.
Extended key order indicators set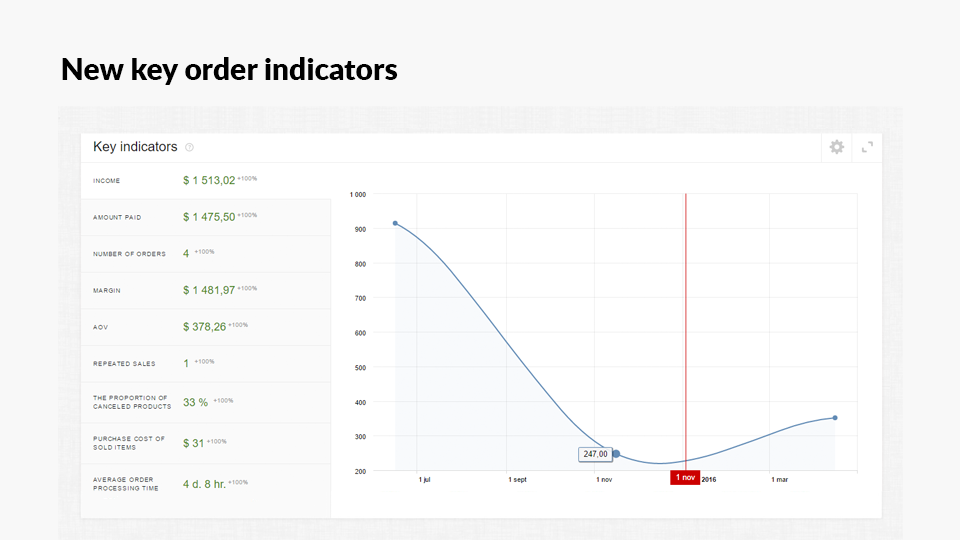 Purchase funnel and business process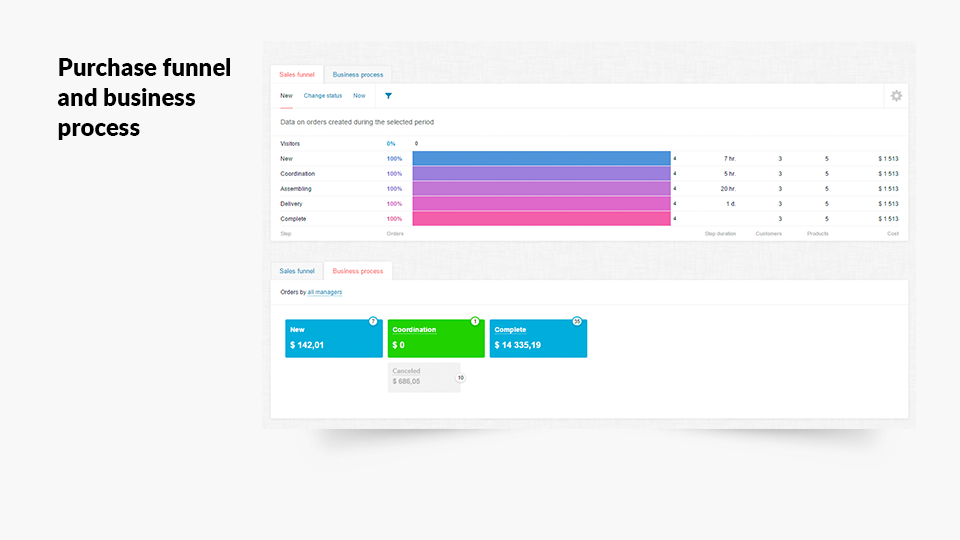 Business process is now scaled to many blocks for status, order number detalization on specified stage and etc.
New product sales and cancellation report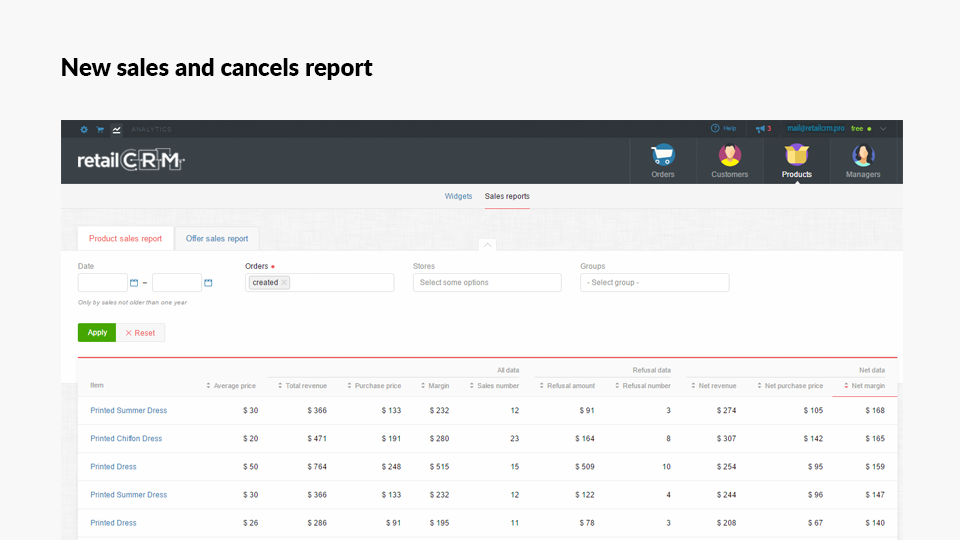 Apart from standard widgets a detailed report appeared telling about products, their cost, margin, number of cancels they had and etc.
Reports can be downloaded in a suitable format — excel, csv, xml and etc.
Manager analytics
The section allows you to see the volume of work being done by colleagues and estimate each of them.
You can setup simple regulations in retailCRM — for example order can be in "New" status not more than 15 minutes. There was no report that would let you check managers following such regulations. In new retailCRM 5.0 version a report "Processing time limit excess" is added.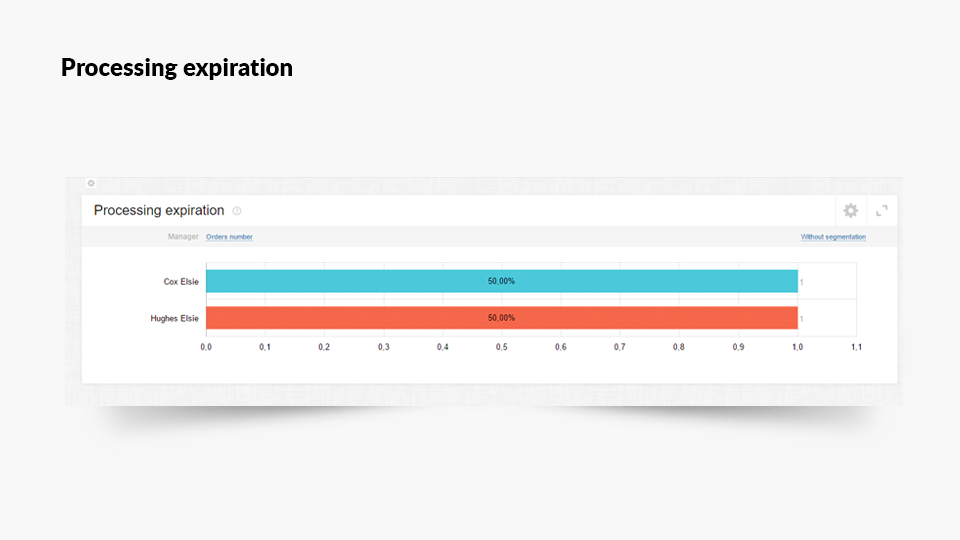 One more report in this section is connected with tasks. It allows to see amount of tasks assigned to colleague and trace their status.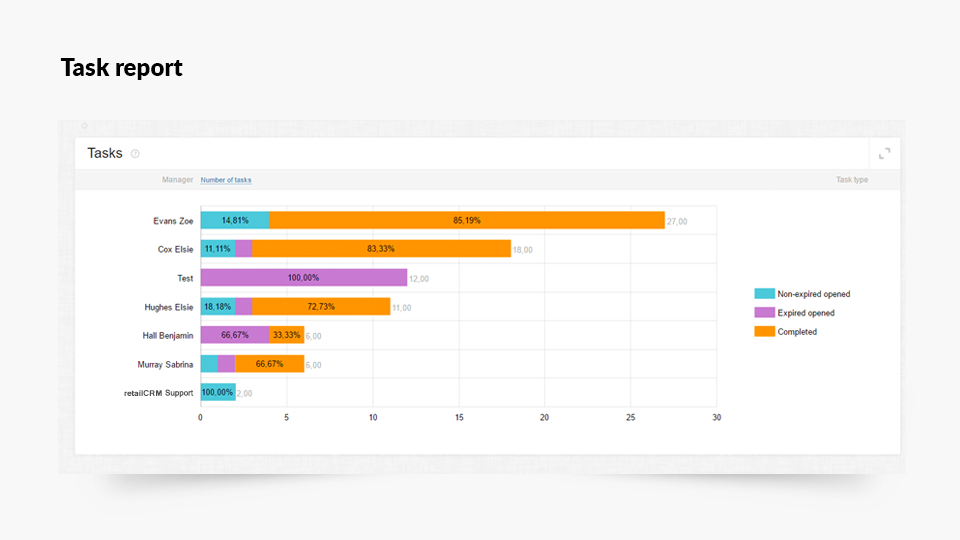 The most interesting and most requested report is "Manager activity". With it's help you can see how many order approves were made by the manager and how many orders were paid. Everything depends on the pecularities of your business-processes, status settings and etc.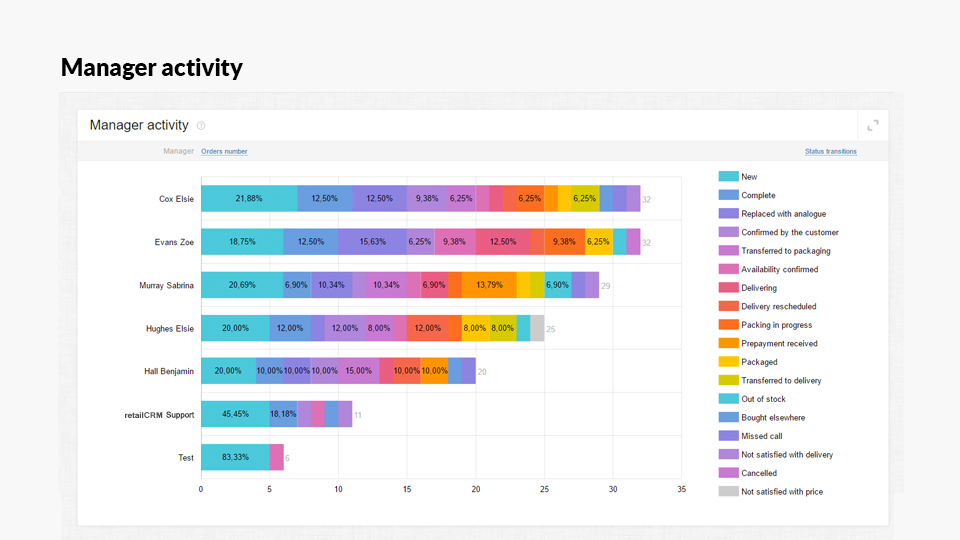 Design
Many people do not see any need in improving visual presentation, but we think that system must be user-friendly. That's why we are working at system usability and are planing to do it in future.
Flat adaptive design

Retina friendly
(which includes simple widescreen monitors)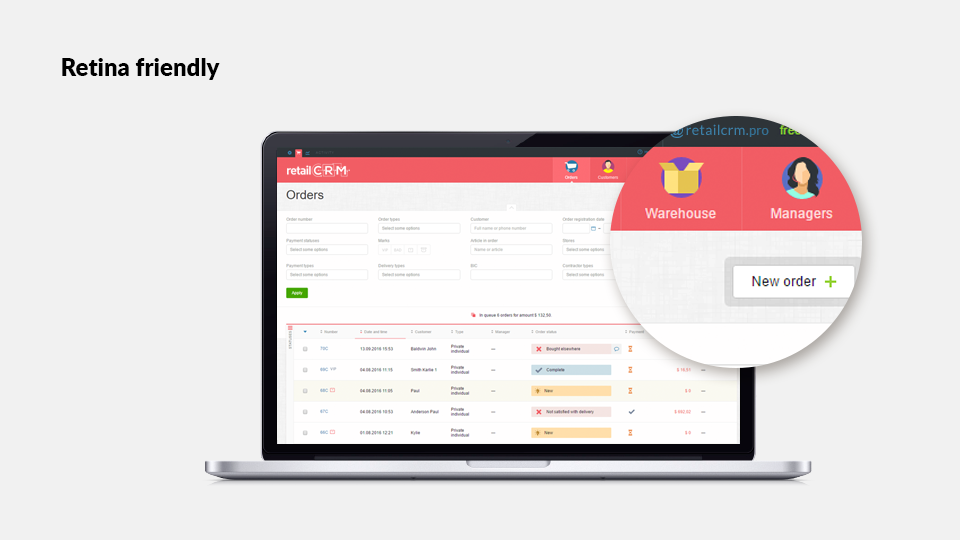 Customer data output to order card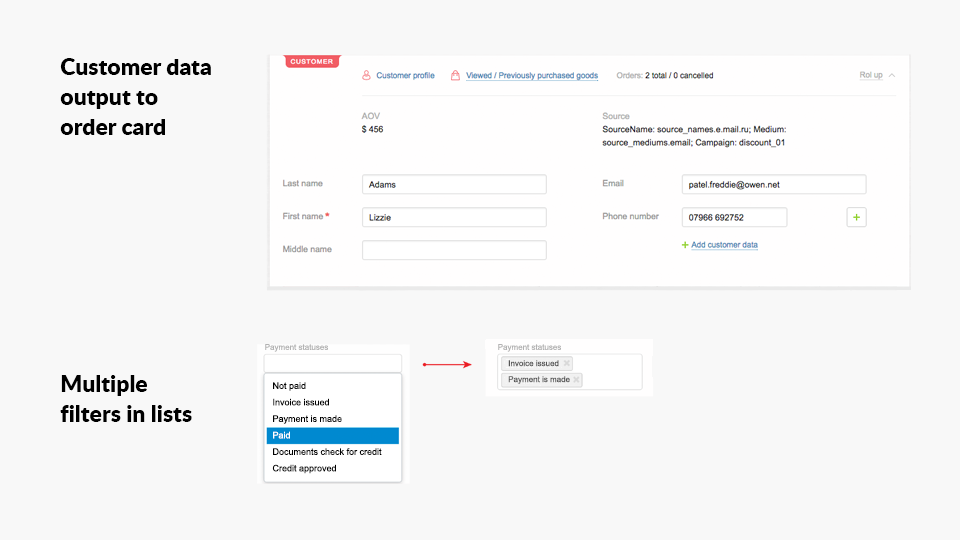 Manager gets total order sum, average ticket, number of cancelled orders and etc. from the order card in a single click.
Multiple filters
You can filter orders according to statuses using several status types. Or you can work with products in the same way.
Updated wrappable call card with VIP/BAD marks
The card became more informative. We can see now the full set of customer data upon call.
New options for missed call appeared:
call back;
add new order (or customer);
set notification for a callback.
Updated pop-up notifications
Information and direct links to order are added to the window. It is possible now to move in a single click to the card required.
New interface for work with private notifications and tasks in one window
Tasks are powerful instrument for automatization being bundled with triggers. Any event can be bundled with automatic task creation for a separate manager. For example, so he can make customer a call if the last entered website.
We added adaptive order content to new Order management system version. This interface pecularity is very convenient if you work with Order management system not only on big screens, but also on mobile devices. The system adjusts the picture upon the resolution change and shows most important information on order contents.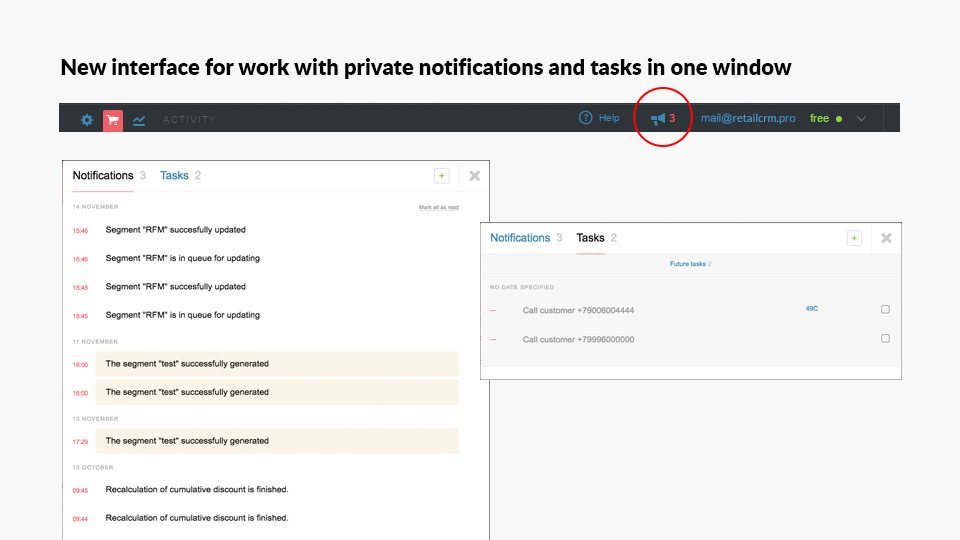 More convenient reservation window
Now upon selecting position at the store it is enough to click only once at the needed store and the system will reserve necessary product amount automatically.
"Customer 360": new customer data details
Function of customer analytics data selection
Now you can see items in which customer was interested the most for a definite period of time on your website, when creating emails in twig template engine. You can use it also for communication personalization, as well as for many other purposes.
Current customer online/offline status
Google ClientID through API
Thanks to our API every customer card in Order management system is assigned a Google ClientID. This mark can be further uploaded to other systems for different aims.
Last and first website visit date fixation
This allows building communication chains with a customer, who hasn't purchased for a long time. "Customer maturation" parameter can be applied when analysing in view of customer segment and in view of the base itself in order to have a notion how much time a customer needs to purchase and what it is based on.
Marketplace
Appearance of marketplace is a significant step from scaling and development point of view.
What we already have?
delivery services;
telephony services;
calltracking;
web analytics;
ESP-systems.
We assist in every possible way and invite partners and integrators for cooperation. Everyone can use our updated API possibilities and make an integrational module.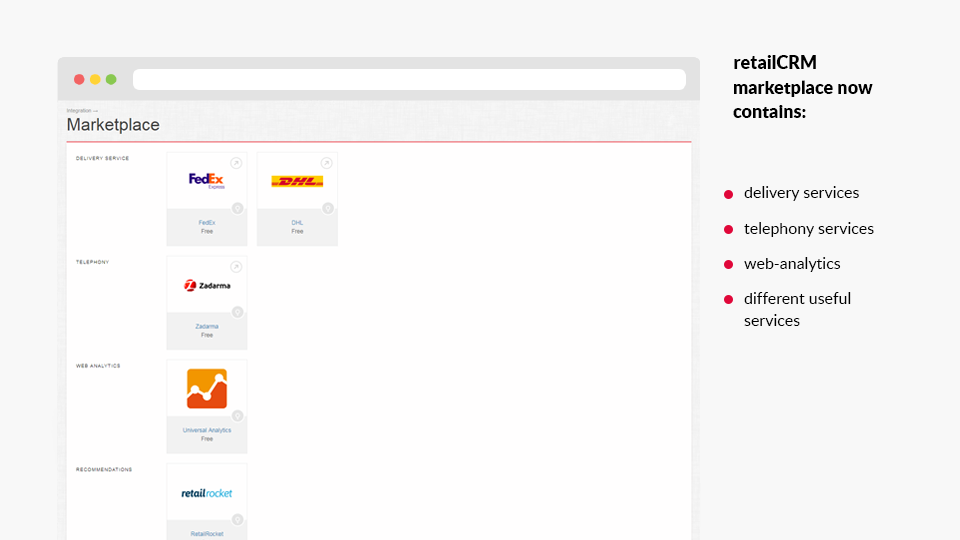 Customers also have a possibility to integrate services which are not present in our marketplace themselves. We are ready to give our support on all stages.
Ilyas Salikhov,
retailCRM

CTO:

Technical aspects of new retailCRM version.
Geolocation. New Geohelper module.
Geohelper — is an open geographical base we have developed ourselves and closely integrated with retailCRM.
Why it's useful?
Customer timezone and local time detection by telephone number and address. This data is stored in customer or order card. Besides, this information is used when setting sms sending limitation time.
Help with city names, regions, streets when manager enters them in customer or order card address fields.
Postal code detection by delivery address or customer address.
Geohelper supports 6 countries: Russia, Ukraine, Belorussia, Kazakhstan, Netherlands and Great Britain. There are about half a million towns and about 1,5 million geographical objects. The data is regularly updated from official open sources.
We solved the issue of de-duplication and data normalization from different sources. Geohelper has an open API, that's why when integrating a shop with retailCRM you can use address help reference book upon website order registering.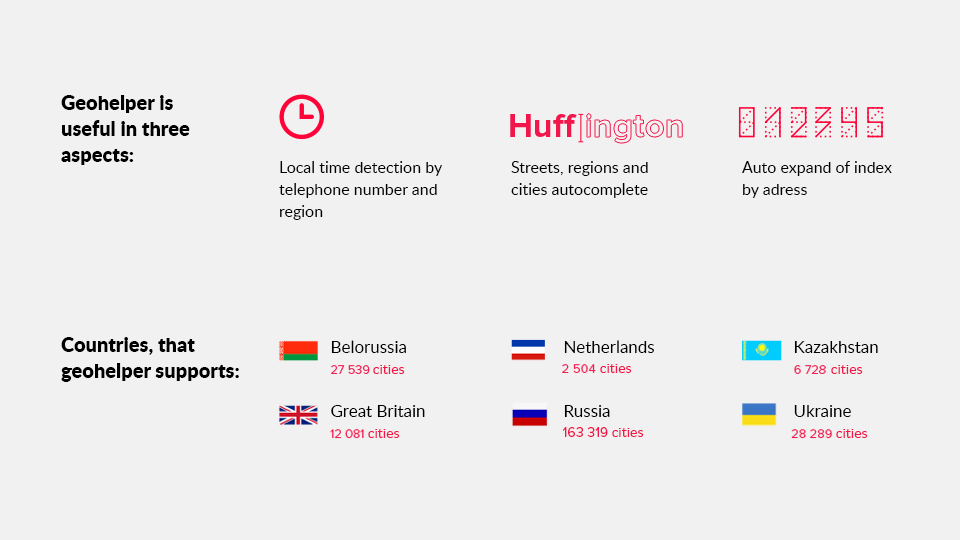 Geohelper is useful in three aspects:
Customer timezone and local time detection by telephone number and address. This data is stored in customer or order card. Besides, this information is used when setting sms sending limitation time.
Help with city names, regions, streets when manager enters them in customer or order card address fields.
Postal code detection by delivery address or customer address.
Big API update
We launch a new API version in new retailCRM release. This update includes several blocks:
Open API for telephony integration.
Classical integration stack:

customer card display;
call history loading and audio interception;
call allocation among available managers;
making outgoing calls from

Order management system

.

Additional features:

setting up several external numbers attached to different shops;
automatic call allocation to responsible manager inside

Order management system

.
At the moment a number of telephony companies have integrated through our API. Direct integration with Asterisk has been performed by our partners. Work on new phone exchange units integration is being held.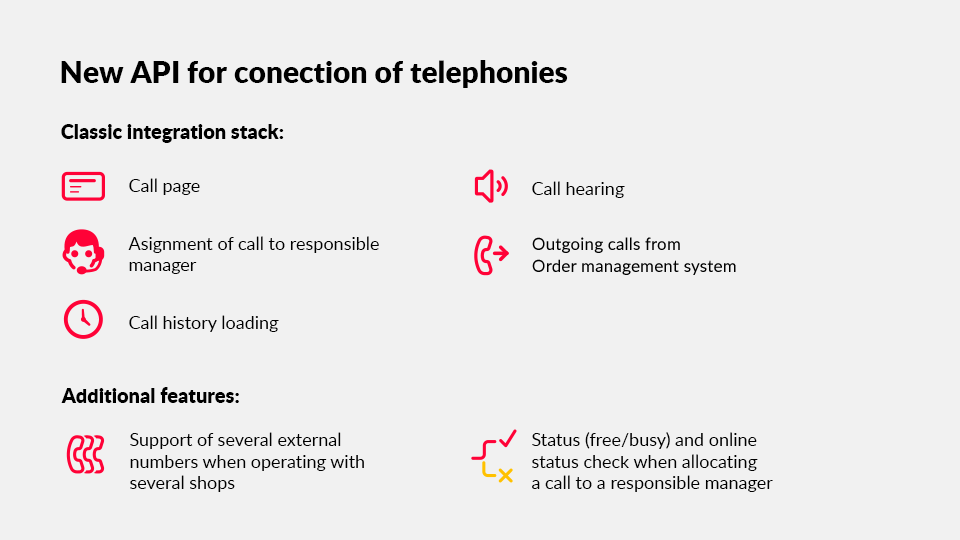 retailCRM

integration with delivery services

At the current moment retailCRM has got 12 integrations with delivery services. About a million orders have been registered through them.

In order to provide integrations number growth we decided to take a way of open API creation for delivery services. We are solving the issue of connection unification and interaction with Order management system.

All the delivery services work formats have been taken into account: connection is available for those who use their own couriers, as well as for those who use postamats or customer pickup. Delivery service can give a wide range of parameters and options upon integration.

Integration points concerning order processing cycle:
delivery cost calculation
delivery registration for the order being uploaded directly to delivery service
delivery parameters change
dispatch documents printing
dispatching status translation.
In the next 12 months we are expecting integration number growth approximately 2 times due to modified API.
New API for fulfillment and storage systems
At the present moment we have got 2 normal integrations existing – with "MoySklad" and "1C". But there are cases appearing increasingly where customers have got another storage system, either self-written or 1C modified. Specifically, for all these cases we have launched a new API.
API capabilities:
on the fly item leftover request;
item reservation for any given order;
store item leftovers upload to

Order management system

;
cost price upload to

Order management system

;
item movement between stores as part of;
order complement order shipment information.
Other API updates
Big changes in existing API methods have been made:
"strict" methods of order and customer creating and editing (invalid data is no longer acceptable);
product work methods added;
customer work methods appeared.
This is useful for user synchronization with any third-party customer system. For example telephony services actively use this — you can see Order management system manager list directly in phone exchange service and assign extension numbers to them.
order and customer history is now incremental
First of all this is needed for double-sided synchronization: in order to transmit changes made in Order management system to third-party system and vice versa. And customer history can be used for synchronization of their base with an external email sender.
Trigger update
Triggers are a rather flexible instrument which allows you to customize Order management system business logic and customize many automatized processes. There are a lot of actions available in triggers which can be performed upon making definite actions assigned by yourself.
A new feature of creating delayed triggers appeared in new version. I'll give you an example why you need them. Usually when order arrives to customer pickup, an automatic email or sms sending is set up, saying that order can be collected. But still there is a definite percent of unredeemed orders. And in order to decrease this percentage, repeated notifications after 2 or more days need to be set up. Such are the delayed actions that can be created with the help of delayed triggers.
Dmitry Borozdin about new tariffs:
All, who work according to current tariffs — they remain for You the same. But if you have a wish to move to a new tariff line — You can do it.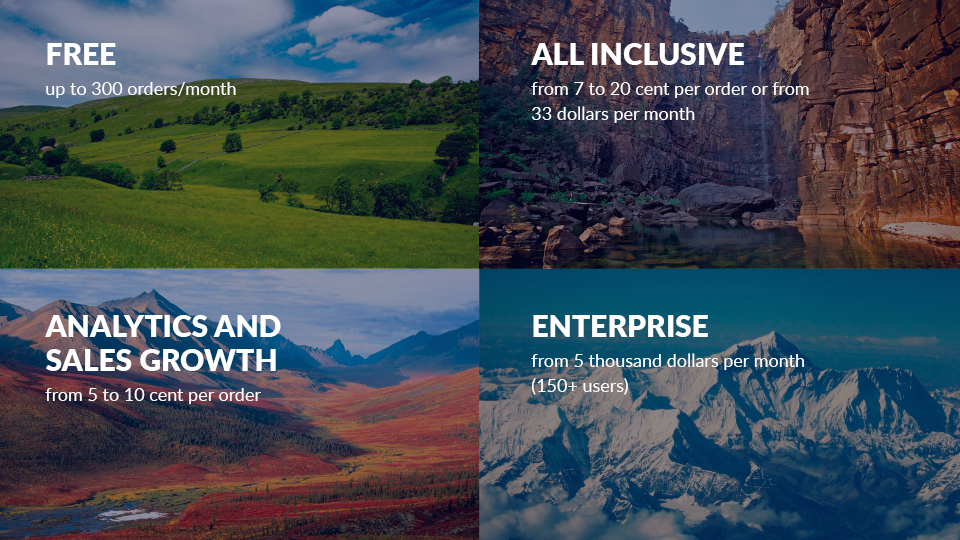 We got a new Free tariff. An interesting and profitable solution for small eShops, that have not more than 300 orders per month. However several moments need to be taken into account:

We do not charge any fee for

Order management system

usage and orders, but if you use email or sms distribution from the system — they will be charged.
Starting from 301 order all the following will be tariffed 25 rub. each.
There are no limitations in all other respects, You define yourself when it is more profitable for You to move to senior tariff.
All-inclusive tariff — from 8 to 15 roubles per order or from 1980 roubles per user a month.
An interesting tariff — "Analytics and sales growth". We created it for those who keeps customer count and order processing in other system and is going to use retailCRM analytics. Here the price is brought down: from 3 to 6 roubles per order, but each is available only in view mode. You can set up triggers, templates, segments, keep analytics, arrange communication chains. This tariff was created on the base of request analysis from our customers, as active, as well as potential.
An exclusive tariff which was created on "Enterprise" request. When a shop grows and investments in technological equipment pay your way, a request for personal service appears. What does the tariff offer exactly? Allocation in separate private cloud, personal support line, personal system customization and adaptation on request. We are ready to provide such VIP support in terms of "Enterprise" tariff for those Order management system which have not less than 150 users. Future releases: I will reveal some company's plans for the nearest future. Terminal shop version. We want to provide our users with an opportunity to install a personal touchscreen terminal. It may contain a built-in payment acceptance system, a loyalty card reader, a small printer for receipts. It will serve as a good instrument of personalized automatized service in a salesroom. Customer can be authorized via sms or loyalty card, make orders and also he will get access to personal account and all the product information. Predictive analytics. This instrument will allow to get such indicator as probability of order cancel. On it's basis retailers will be able to reduce definite risks. In general there are always a lot of missions set in retailCRM, the system is developing, we always work over customer requests. I wish You successful management in personalized sales and see You at the next big release!