Some improvements of order processing in retailCRM 5.0
SMS are not just being cancelled now but are trying to be delivered, you can set orders distribution, ignoring responsible customer manager and there are additional filters in telephony reports and many other things.
---
New logic of working with SMS delivery errors
The logic of SMS delivery has changed in retailCRM. Earlier some messages were not delivered for the following reasons:
Errors in content (incorrect phone number of recipient, empty message, too long message)
Problems with settings of your account in SMS provider (e.g. sender's name is not registered)
SMS provider is unavailable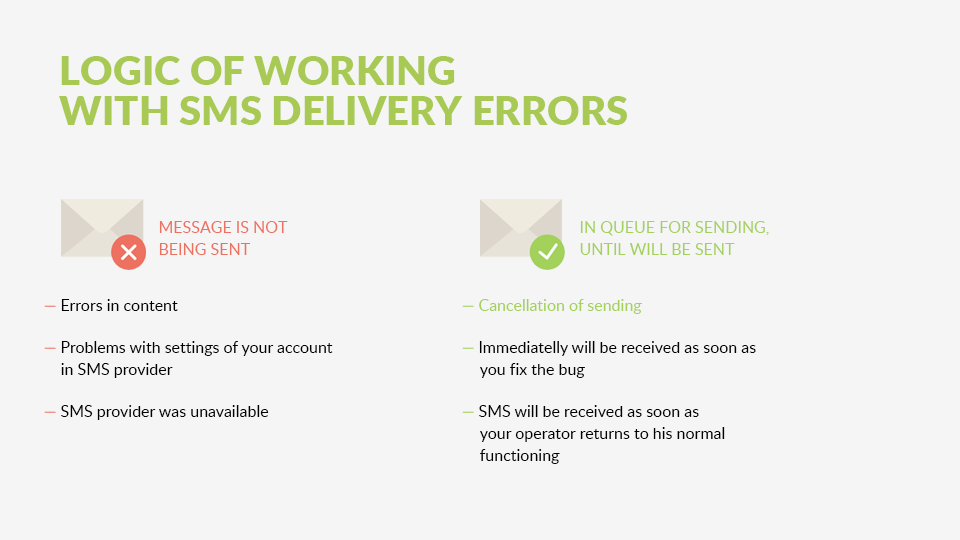 Now sending is being cancelled only at first case. In other cases SMS is being put in queue for sending and delivery attempts will not be stopped until they are finished successfully:
If message have not been sent because of the problems on your side, then it will be received as soon as you fix the bug
In case if provider is unavailable, SMS will be received as soon as your operator returns to his normal functioning.
More smart processing of customers` letters
Now retailCRM is able to recognize an original address of a sent letter even if it was redirected from another mailbox.
What does it mean? Imagine that you have several shops with different email addresses for incoming correspondence.
For example:
Letters from all three addresses come to the common mailbox which is directly connected with retailCRM (e.g. retailcrm@myshop.com).
Previously, the system did not display specific mailbox the letter was sent from. When viewing incoming message from a customer in the system, there was only address retailcrm@myshop.com in the field "To". And it was unclear, whether this letter came from info@camomile or info@ray.com or maybe from info@teddybear.com.
Now in incoming letter you can see an exact address on which the letter was initially sent to.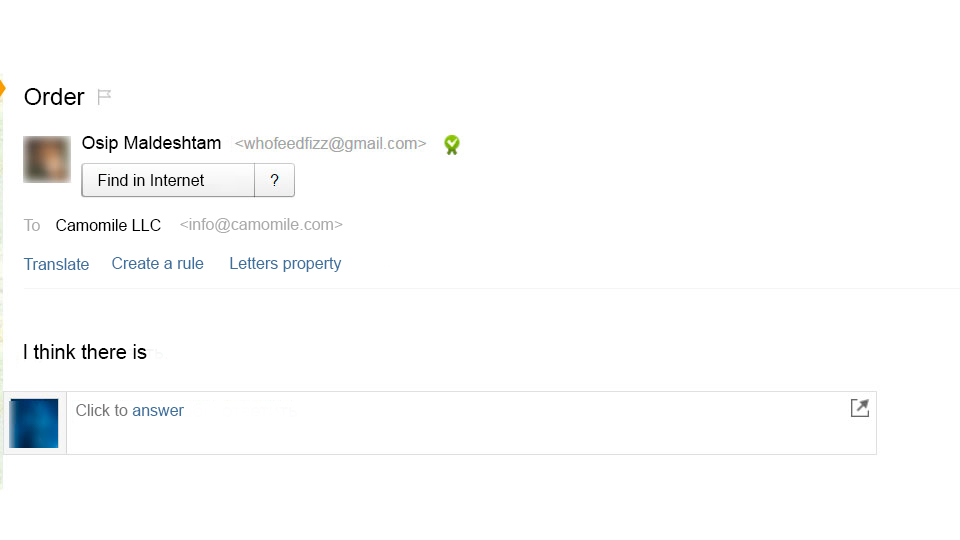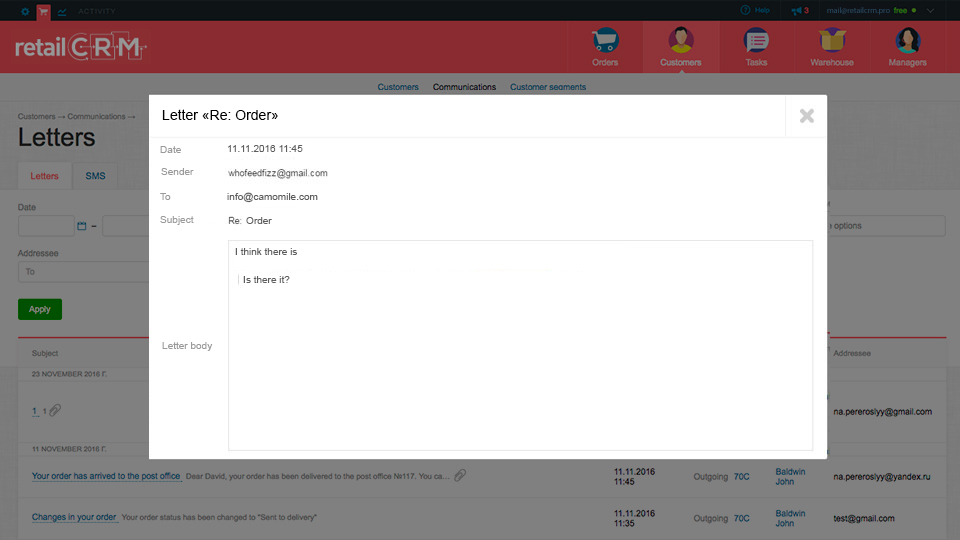 And you can see at once from which shop the customer writes.
Ignoring responsible customer manager at auto distribution
Now there is one more scenario of order distribution in the system when orders are distributed to free managers ignoring responsible customer managers.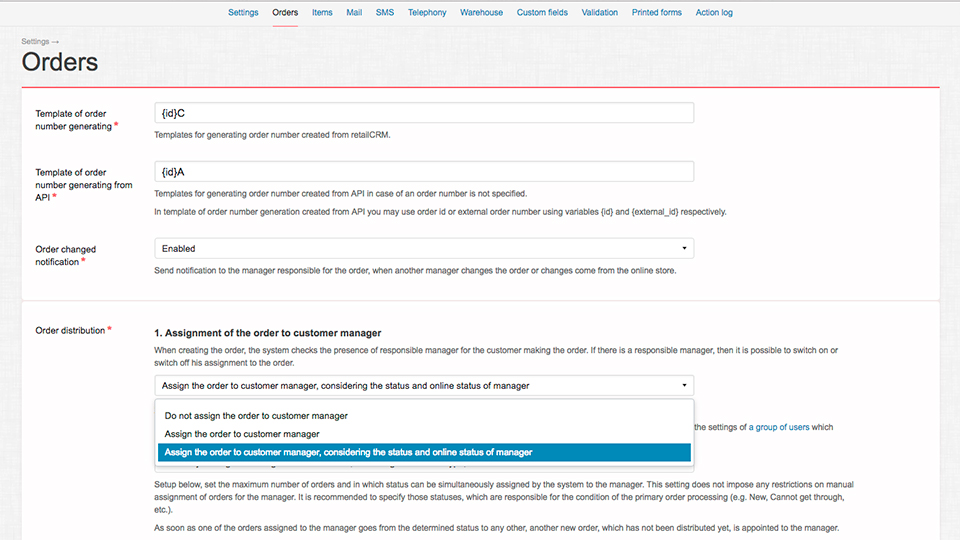 Let's take a look at the examples of application of each scenario:
Assign the order to customer manager. Perhaps, it is a classical scheme of order distribution at shops with personal sales. Manager starts working with customer and interacts with him during his whole life cycle.
Assign the order to customer manager, considering the status and online status of manager. Managers work in shifts and if customer contacts with the shop not at the shift of his manager, he should not wait several hours till his manager`s working time. Customer wants to make order and it doesn't matter who from managers will take it. The main thing is prompt attention!
Do not assign the order to customer manager. This is a new scenario. "Clear" auto distribution of orders among managers, when orders are distributed to different managers by turns, regardless of the initial customer manager. Maybe, there are no personal sales in your shop and team working for achievement of a common plan is welcome. Then this variant is ideally yours. No problems with responsible customer manager- who was first in taking the order — has the sale :)
Call history is bound to order or customer and not to the phone number.
Call history is displayed now with binding to the specific order or the customer. Previously, all calls were bound only to phone number. Opening the list of calls at order or customer page, you saw the list of all calls ever made from this number or to it.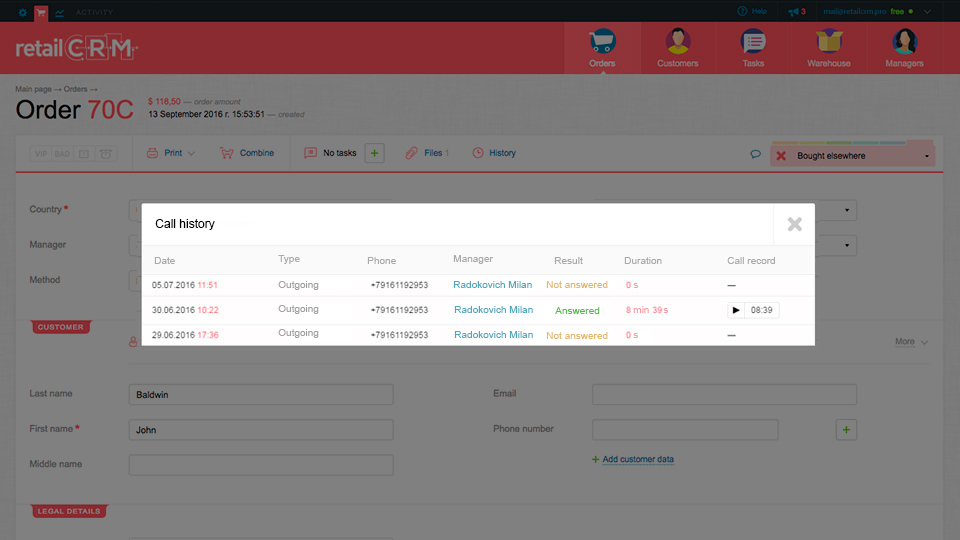 Now the list is limited only by those calls which were made specifically on this order or customer depending on what page you are viewing: an order or a customer.
In system settings of telephony you can choose whether calls should be bound to orders/customers or not.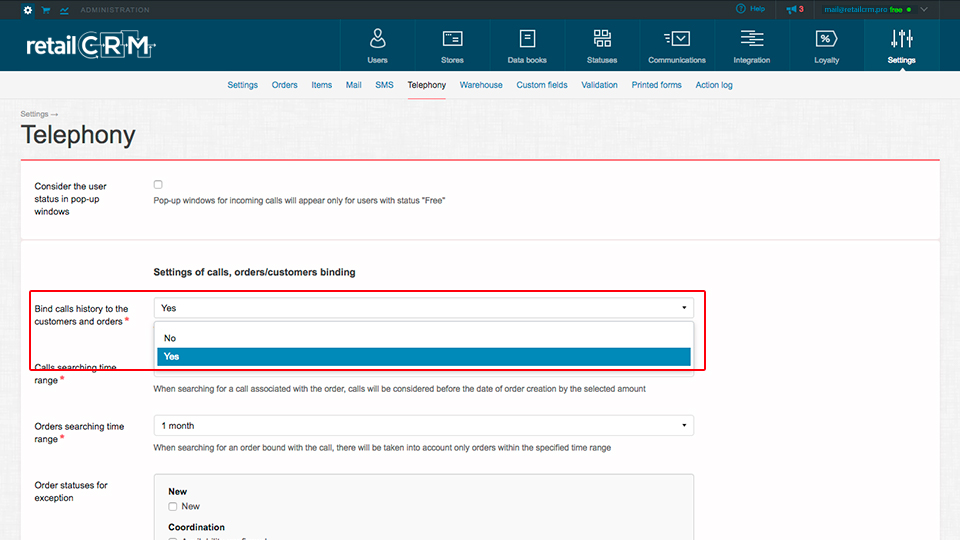 Previously, the disconnection of this function didn't allow to know what order or customer was related to the concrete call in a common call list: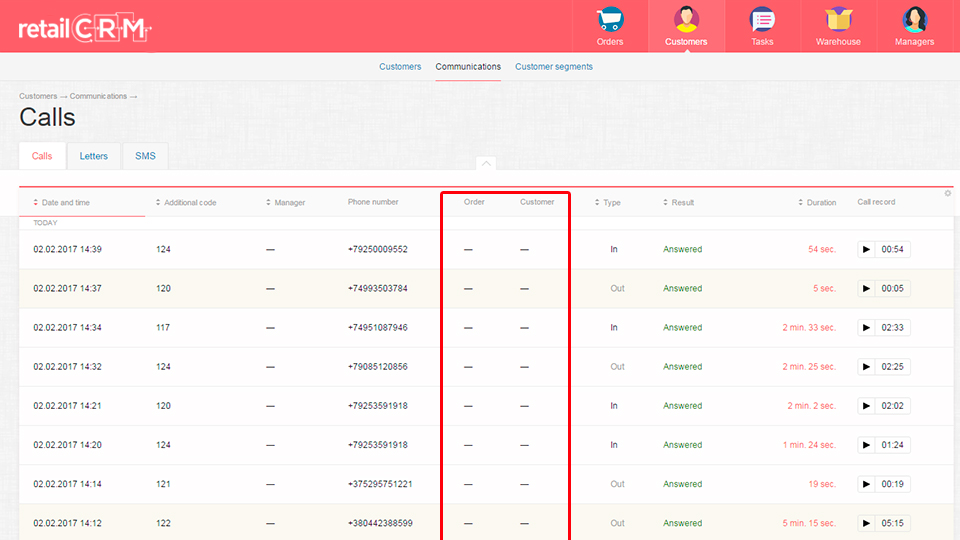 Now, disconnecting this function, you will also make impossible viewing the call history of a particular order or a customer.
New filters in call reports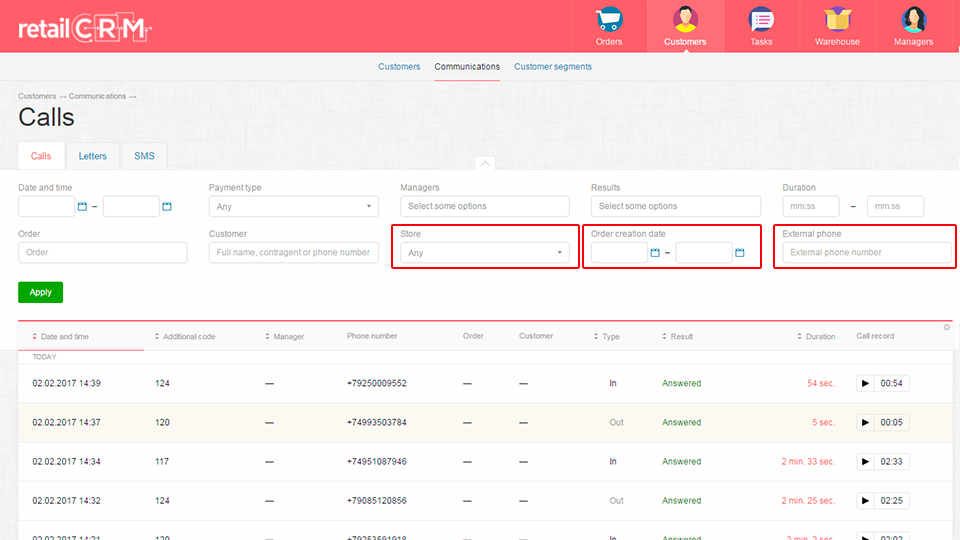 New filters on all employees in the company were added in call report (in Communications section):
on store;
on external phone number;
on order creation date.
How can we apply each of them?
Filter on store will be useful if you have several online shops bound to the system. And it is necessary to monitor calls on each of them, to check conversations or the cause of arisen conflicts.
Filter on external phone number. Now retailCRM is able to fix external numbers in reports and you can filter upon them. This is useful in the situation similar to the previous one with the only difference, that there are several phone numbers for incoming calls in each of the shops you have.
Filter on order creation date is needed when there has happened a situation with a particular order. For example, a customer claims that he was deceived or provided with incorrect information. As a result, your company has received an angry comment or a return. You can filter on order creation date quickly, find the necessary one and figure out who was guilty on the basis of call recordings.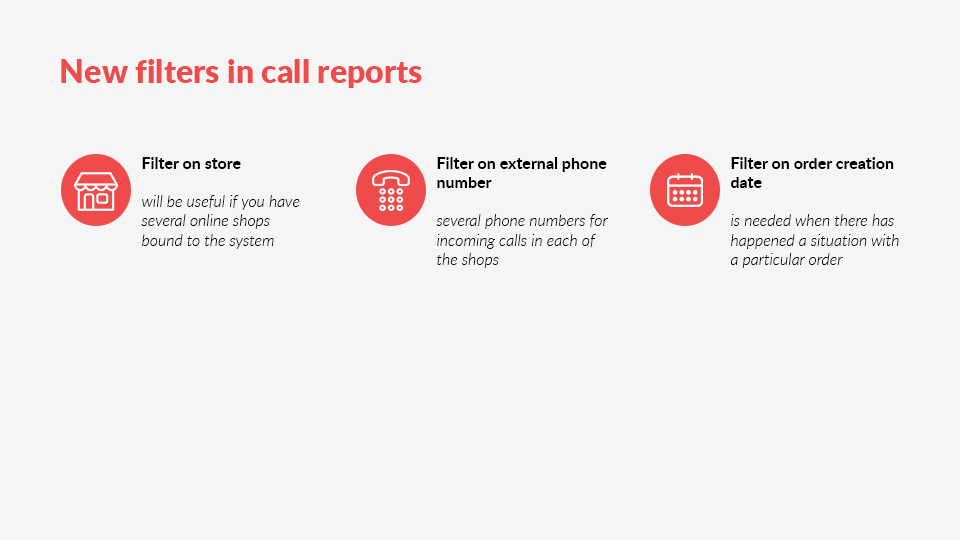 All updates have already come into force, perhaps, you should check them in action right now :)
If there are questions, we will answer them with pleasure by phone +44 2070437182 or by e-mail mail@retailcrm.pro.