With retailCRM we removed daily routine in CPA networks
Today Sujeet Kumar shared his experience of selling online in India: peculiarities and habits of local customers, problems he faced working in e-commerce, and how it can be solved with the help of automation.
---
Lets speak about your business. Why did you start selling green coffee? Tell please a little about your product
You see, in India there is a big problem with this. In the city there is a people who are really suffer from overweight. Usually it's hard for them to find the suitable product to reduce their weight. Also there are many products in the market which are chemically produced and may harm people's health. I started selling a green coffee because it is not harmful product for people.
Do you sell coffee all over your country or in some regions only? Who is your target audience?
We sell our coffee all over India. My customers are people who are overweight and want to reduce their fat. Basically it is 60% women and 40% men. Our customers are everywhere from big cities to small towns and countrysides. You know, some pharmacies also sell green coffee, but not many of them. I'm selling straight to the people.
How did you work before retailCRM CRM? Where did you control your orders?
Before retailCRM I was using another CRM. But they didn't maintain my confidentiality as I wanted. For any business — confidentiality is one of the main features. So I've switched to your company.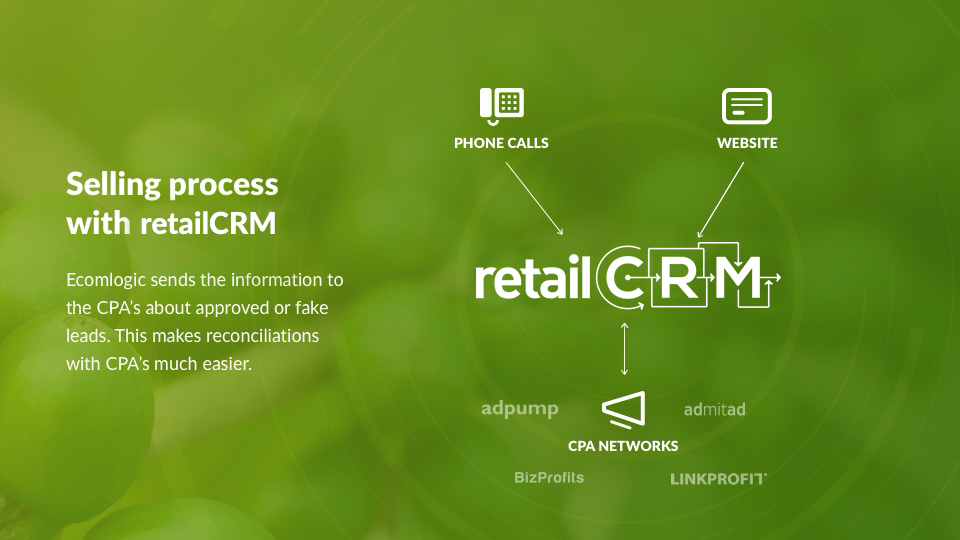 How does your selling process looks like now? Tell us a little about how do you sell coffee online.
This product is kind of new for India and not all customers know about it. I have to inform people about my product everywhere. Doing this through the Internet is the fastest and cheapest way. And the best solution for me — are the CPA-networks. They lead people to the website and then customers fill the order form.
So we've got the lead in the retailCRM. After we got it, our employee is calling to a customer, to convert these leads into orders. If the lead is successfully converted, my agent agrees with customer about delivery, payments, etc and fixes it in the CRM. In a related move retailCRM sends the information to the CPA's about approved or fake leads. This makes reconciliations with CPA's much easier. After that, product is delivered to the customer, and courier accepts the payment. Unfortunately at the moment we don't have online payment systems and it is the issue we need to solve as soon as possible.
What retailCRM features are you using already?
This ecommerce management system is a good tool for us to work with orders — we see all leads and orders on-the-go, convert it faster to approved orders, get rid of fraud leads, and keep the information about orders, customers and deliveries in one place. We're tuning our business processes using matrix of statuses. Another tool we like to use for taking some decisions — is sales funnel. We control how much leads were converted to orders, delivered and paid, where we have lost some orders and so on.
Do you have some sales targets? Do you control how much do your agents sell? Do you use retailCRM for such kind of control?
Yes, we have a target, when manager has to convert specified amount of leads into orders. And then he or she will have a bonus. As of now, retailCRM is a new e-commerce management system for us, and I need to train my managers, so as they've got used to it. That's why now their results in the system will not be 100% true. After some time of course I've already planned to use vast possibilities of retailCRM. It is really good for the e-commerce business.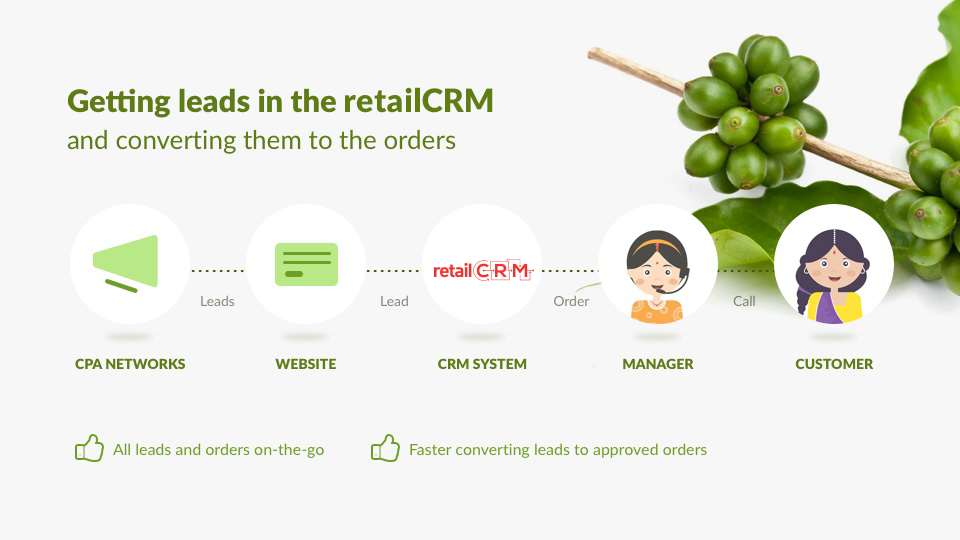 What kind of retailCRM features are you planning to use?
At the moment we have several main problems, we'd like to solve. These are integrations with delivery systems, online payment gateway, integration with VOIP and invoice printing. Our first step is VOIP — and we're already choosing the partner. As for delivery tracking and invoice printing — now we manually input the information into the retailCRM, but it will be great when we have it automated. We have many services in India which can easily integrate with retailCRM.
But the most painful story for us — is absence of online payment services. We work on "cash on delivery" scheme. Very often we have approved and delivered order, but customer refuses to take the coffee and pay for it. They changed their mind and locked the door before the courier. With online payment systems we hope to reduce the number of refusals and have more cash-in.
One more feature we're planning to use — is sales analytics. For example we can compare our costs on different CPA networks to the amount of revenues we get from the orders and decide which one is more profitable, and which one we need to stop working with.
Did you think about using retailCRM marketing automatization tools?
Yes, yes, I am interested in email and SMS marketing. I'm thinking how to proceed with it in future. It will take time, you know. Indian people are very tough to communicate with. They don't like using emails, don't believe it. Customers want to have a conversation directly through the phone. They want to understand everything before making an order. Same story for the SMS. People believe only in direct talk.

Got the point. What about some after-sale conversations? Do you consider some marketing actions as a tool for repeated sales?
You see, Indian customers are that sort of customers you cannot find in the whole world. It is very hard to motivate them for purchase, and if I send an SMS to unsatisfied client — they will get very angry. So that's why it is difficult to work with marketing in that way. E-mails should be the same. There is kind of solution we already use: some discounts, some gifts for clients to increase loyalty and sales. We're giving a discounts for customers and special offers for the best clients. And it works.
Mr. Kumar, we see that your sales depend on customer service very much. Do you measure a level of your agent's service when they are taking orders? Maybe you have set a time for every status of the order, or you look how much time one agent spends on conversation with customer?
We don't have such timing yet, because some leads may come when store is closed. Same thing with the time, my agents spend on each customer. Yes, I try to control it, but usually we have to spend from 10 to 15 minutes on one customer. Some customers are aware of the product; they don't need to listen to an explanation, because they already know about the green coffee. But some customers may know nothing about this product. So you have to explain them everything: you have to explain the prices, you have to explain the functions of the product, you have to guarantee if they have benefits or not and much more. So it depends on a customer. We don't set a time frame for agents, we just need to sell our product.
Tell us please a bit about your future plans?
At first we plan to integrate VOIP and call customers through your CRM, we are already discussing details with your team. Also I plan to increase my agents staff, and we are in process of increasing number of CPA's we work with. It will give our business more customers on the one hand, and more opportunities to work with leads on the other. And the next step is — integration with delivery services, invoice printing and online payment processing.