Closer to an ideal — new possibilities of connection between retailCRM and Google Analytics
Alongside with the interface and functionality of retailCRM 5.0, has been updated and improved web analytics. Even yesterday you did not want to upload orders without items to GA or did not know how to save the first and last value of clientID in retailCRM and today all these and other possibilities are already available!
---
Additional possibilities of integration with Universal Analytics
The integration module with Universal Analytics in retailCRM marketplace has been expanded with new possibilities.
First of all, now all setting parameters are divided into three big tabs for convenience:
Main settings
Downloading from analytics
Uploading to analytics
In the first tab the main opportunities for integration are available:
Enabling the integration
Binding stores to retailCRM (specifying profile ID, parameter index and tracking ID)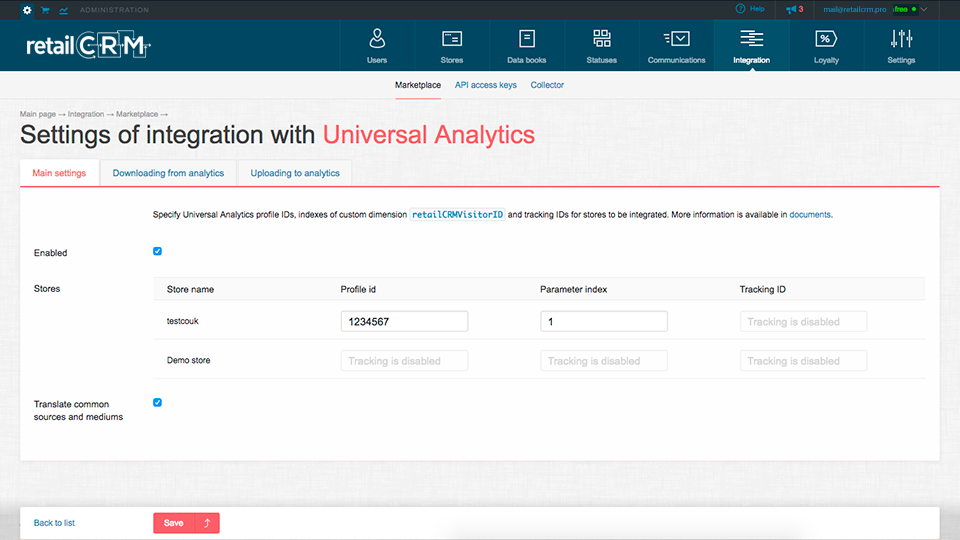 In the recently appeared second tab, various parameters are available for setting things you are going to upload to retailCRM from Universal Analytics.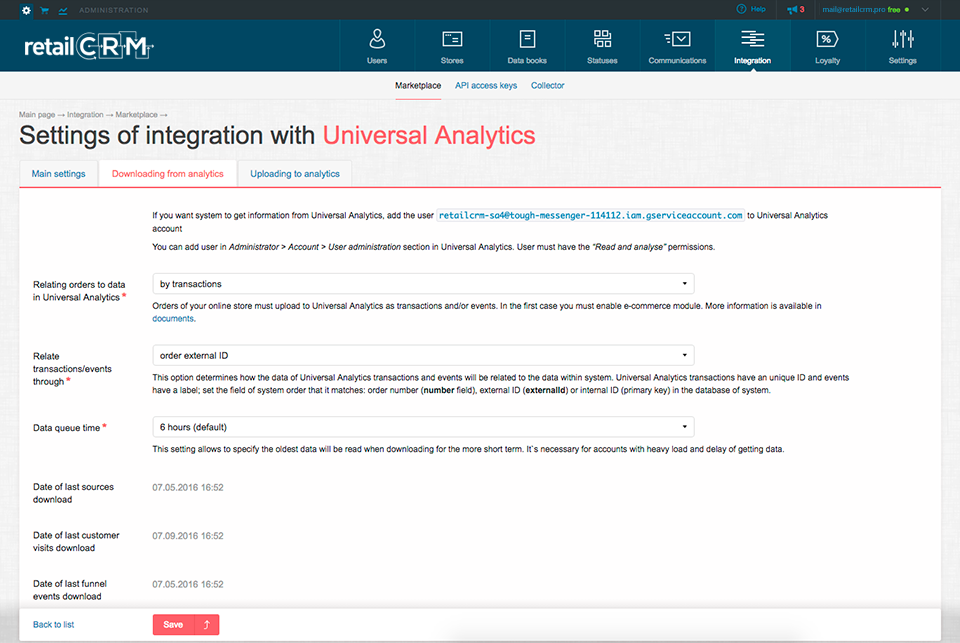 Also, a new possibility is available for you in this tab: now you can set up in what way to relate orders to Universal Analytics:
by transactions (do not forget to include and set up e-commerce)
by events
by transactions and events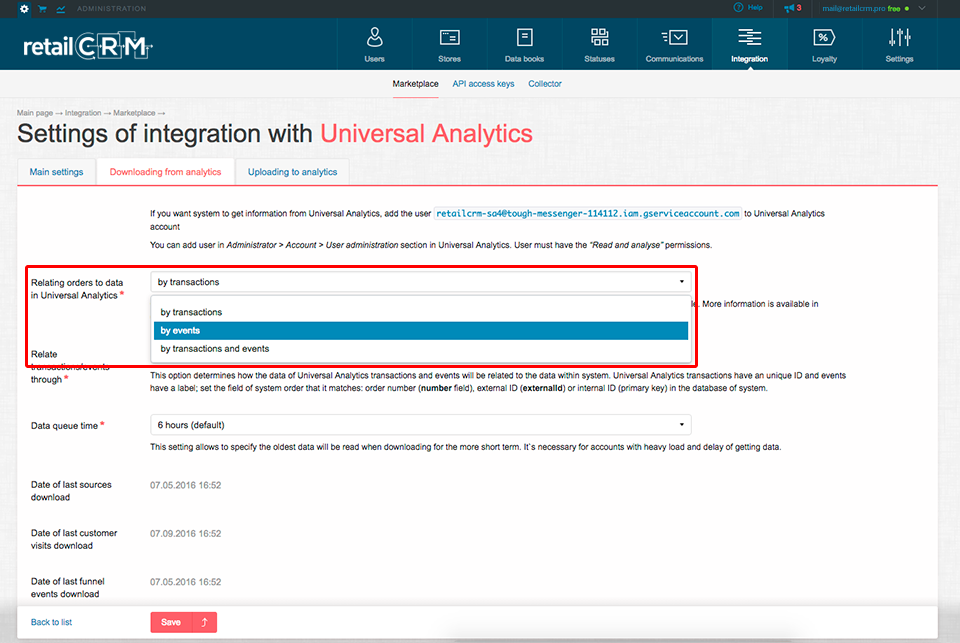 For relating by events additional parameters are available:

You can add/remove one or several different events, all your changes will be applied to integration settings with Universal Analytics.
Why is it necessary?
For example, in addition to purchase in your store, a visitor can leave a request for contacting him/her or fill in a feedback form. At the same time, in retailCRM is created an order. But you do not want to create a transaction in the Universal Analytics ecommerce module, because the corresponding event is not a purchase. In this case, in Universal Analytics you can set up the event and collect web analytics data for this customer via it (sources, channels, campaigns, visits and other data).
In the new third tab you will find all settings for uploading data from retailCRM to Universal Analytics and several new parameters.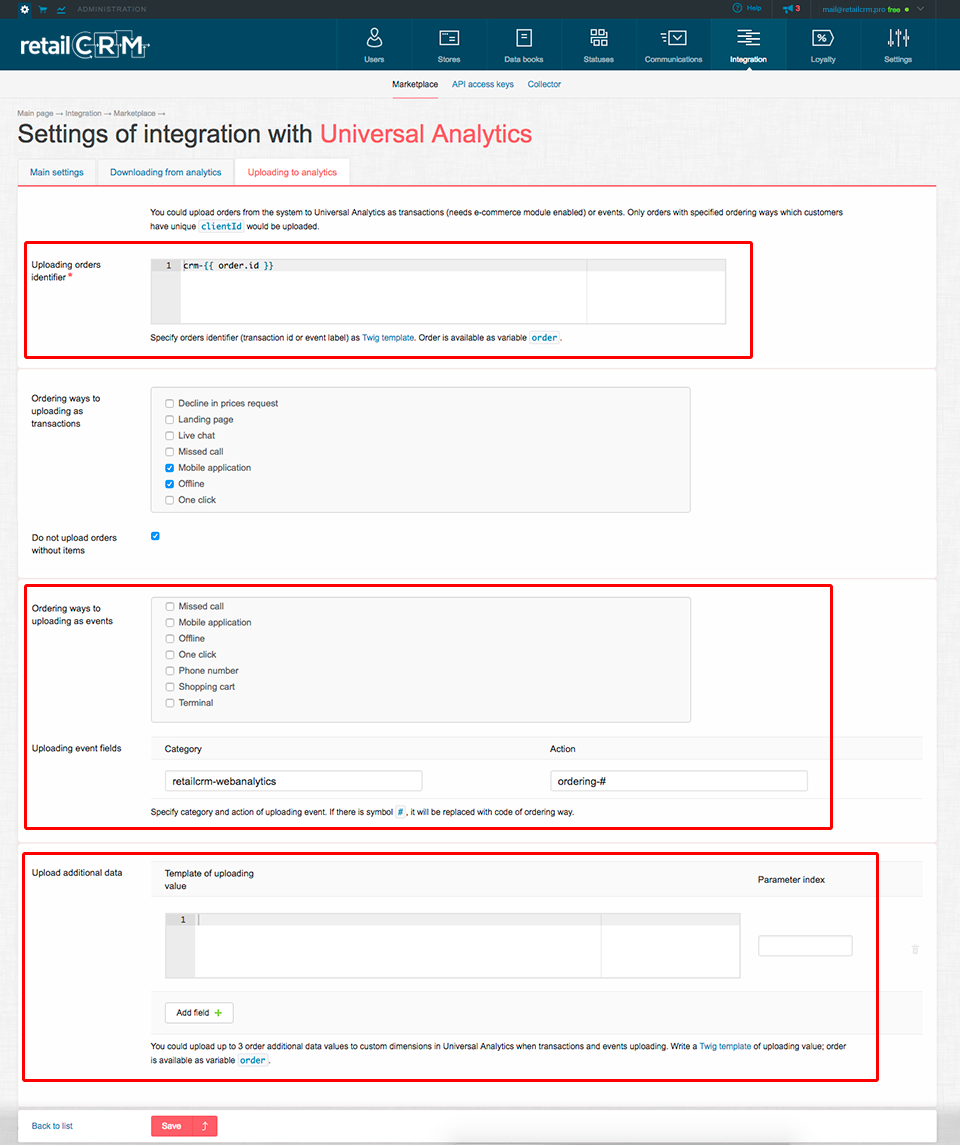 Uploading orders identifier has appeared. It allows to specify which ID is assigned to the order in Universal Analytics when uploading from CRM. For example:
number
internal or external ID of order or customer
user field
Ordering ways to uploading as events — here you can choose which ordering way to use for uploading orders from CRM to Universal Analytics as an event. Do not forget to set up the category and the action of uploading event.
Any additional data of order alongside with transactions and events can be uploaded to Google Analytics through the twig-form at the very bottom of the tab. For uploading, write down the template of the necessary value and the identifier of the user`s variable in which they should be uploaded.
Orders without items aren't uploaded to GA anymore
For example, an order was created automatically on a missed call in retailCRM or your manager manually created a new order on incoming call. Til there are no items in the order, the corresponding transaction will not be uploaded to Google Analytics. This is convenient if you have many calls with service requests which do not involve changing or processing an order online. And for uploading orders as events this setting does not influence.
You can leave uploading orders without items, if it is required for your business. Do this in the settings of integration with Universal Analytics:

The keyword, campaign and all parameters of Google Analytics are in separate columns now.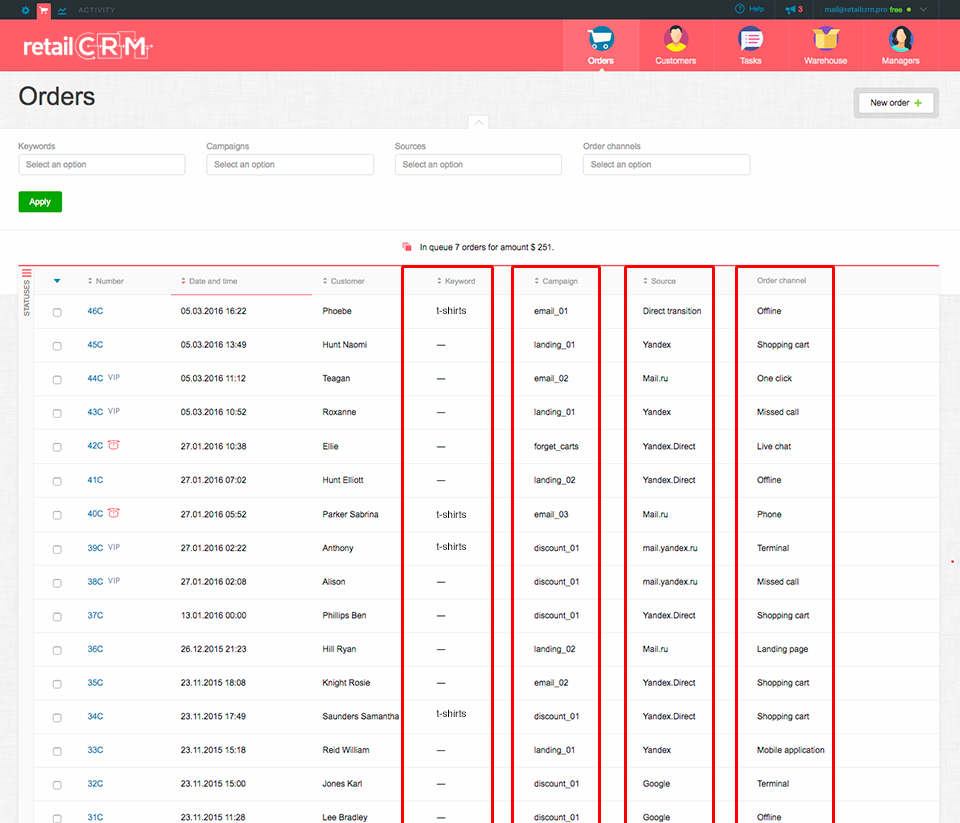 Two new columns — "Keyword" and "Campaign"- have been added in lists of orders and customers. Data in these columns is pulled from your Google Analytics account, in particular, from UTM tags.
Other parameters (source, channel, campaign) are divided into three different columns now, while previously they were a single "Source" column in the list: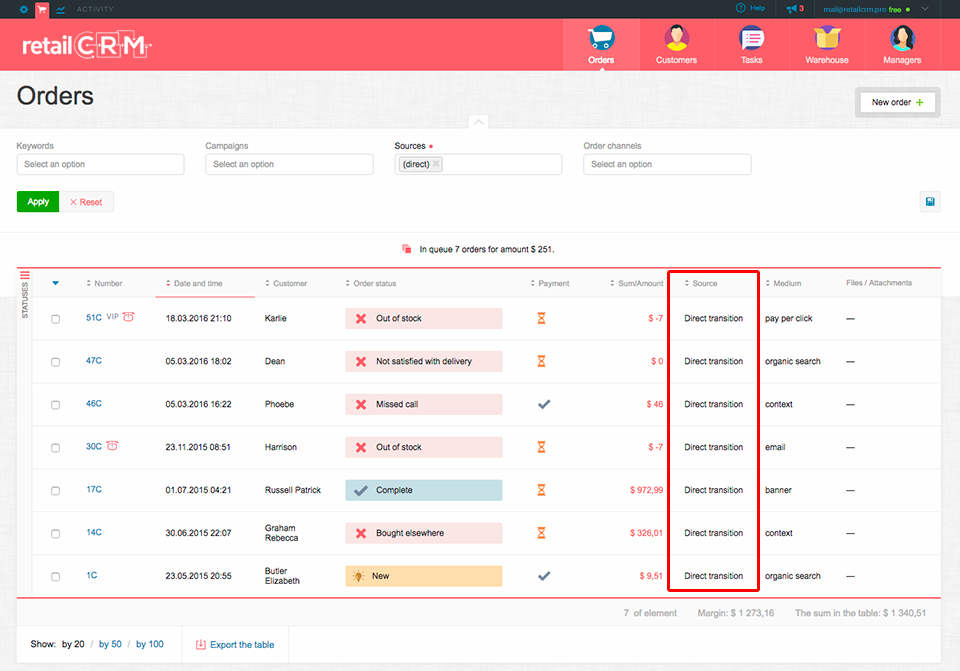 Pay attention — all 5 fields are visible in order list and available for uploading to Excel but are not available for viewing in order card.
Besides, these parameters remain divided when uploading to Excel documents.
ClientId is in lists of orders and customers
Additional parameter which appears in list of orders and customers is clientId.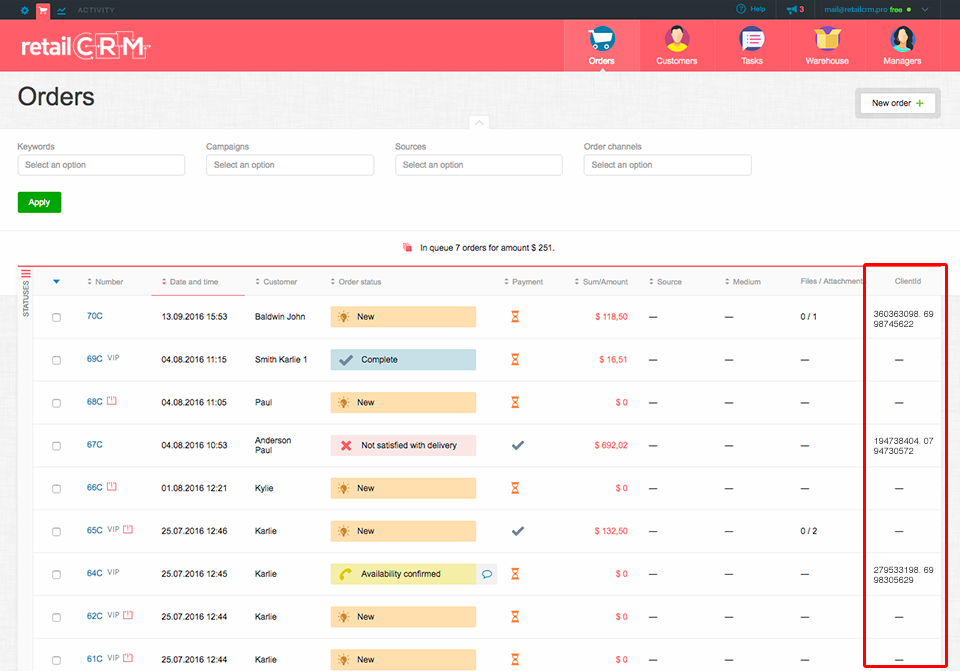 And in the list of customers you will see not just clientId, but the first one and last one. This means that retailCRM saves the id with which the customer came to your store for the first time, as well as the id which was assigned to the same customer for the second time. For example, after clearing browser cookies. Or if a visit on your website was made by the same person from two different browsers, platforms or devices.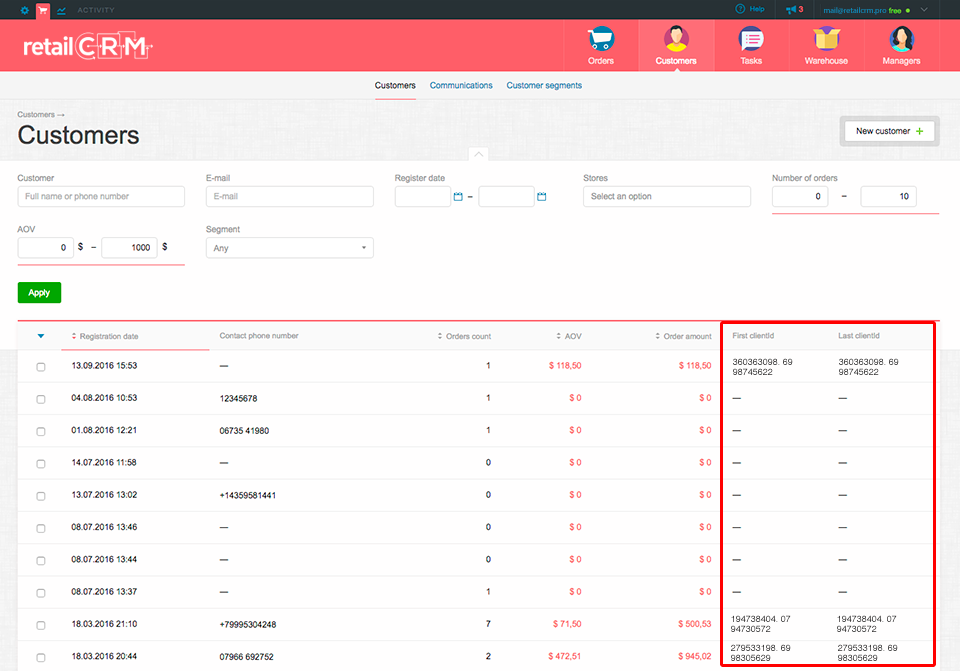 All updates are already working and available for test drive! :)