New things in retailCRM: clickable user fields, exporting goods characteristics in Excel, customer search on TIN and improvements on file working
First of all, we have carried out a big optimization of user fields functionality. For example, they can be made editable, not editable or absent. Also in this release: goods characteristics and status groups can be exported in Excel now, search of existing customer is carried out not only on a contact information but on legal details and it is possible to attach psd models and other "heavy" formats as a file to order or customer.
---
Improvements of user fields
A separate topic in retailCRM is user fields. Usually we receive a lot of comments connected with the addition of new functionality to user fields or the extension of already existing one. In this article, we will tell you about the number of improvements which have been already added. First of all, the user field can be made not editable or completely hidden from order or customer cards. In first case, it will have the following form: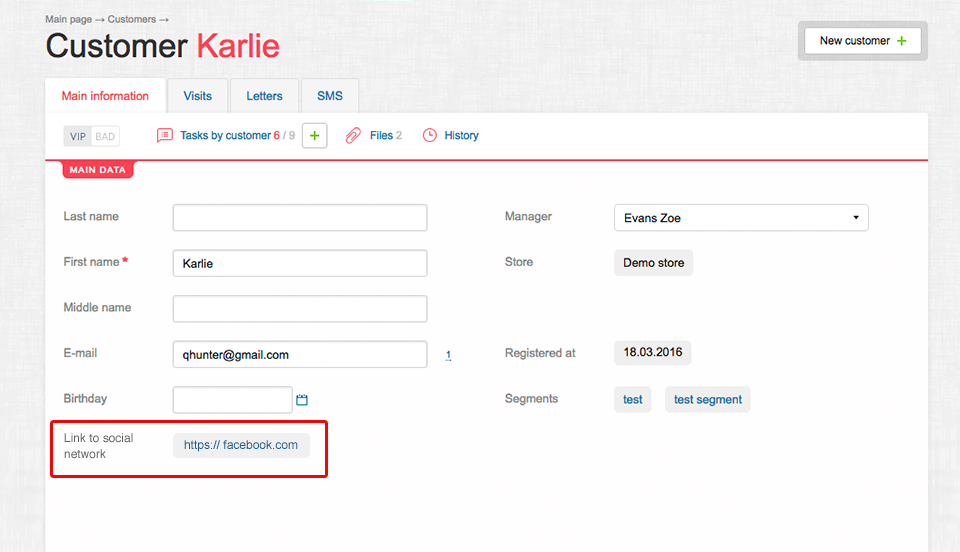 Not editable field is displayed in order or customer cards only in reading mode, while in triggers and API it remains editable. This is useful and convenient in case when you gather a unique information about a customer (for example, a link to profile in social net) and do not want managers to erase or lose the data accidentally. All URLs which will be displayed in not editable user field are clickable and when following them, will always be opened in a new window of your browser.
In order to hide the user field, choose in the settings "Field view in the form" — "absent".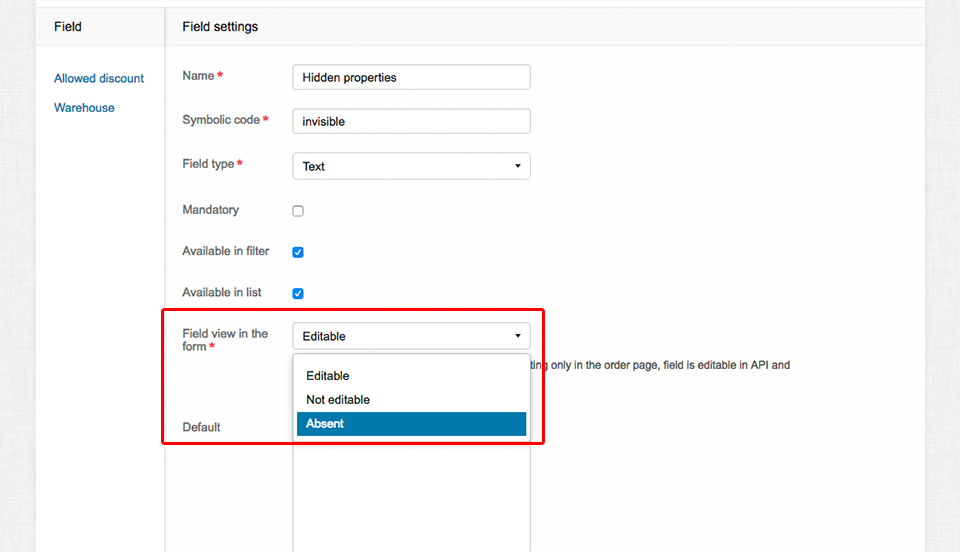 Export more parameters on order in the table
The list of orders displays characteristics of goods added to order and status group to which the present order status belongs.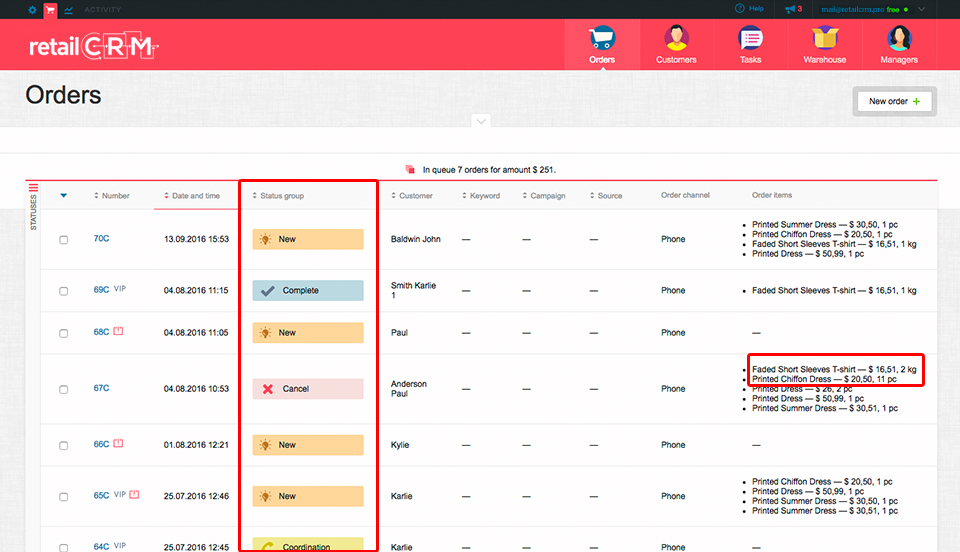 Both improvements are useful when exporting data in Excel. For example, for making separate reports on goods or sales. And also, displaying goods characteristics, for example, color, size or article will help the storekeeper to ship the necessary positions quickly and without mistakes.
Now it is easy to find an order not only from a private individual in the system but also from a legal entity
If you get many orders from companies, then, you work with the data of legal entities for sure: TIN, RNNBO and etc.
Previously, search of customers for binding to a new order in retailCRM could be carried out on the name of a private individual. Now we have added a possibility to search on a legal entity name and / or TIN.
This means that you just enter the first numbers of legal details or letters from organization`s name when creating a new order, and retailCRM displays all existing customers in the system according to such data.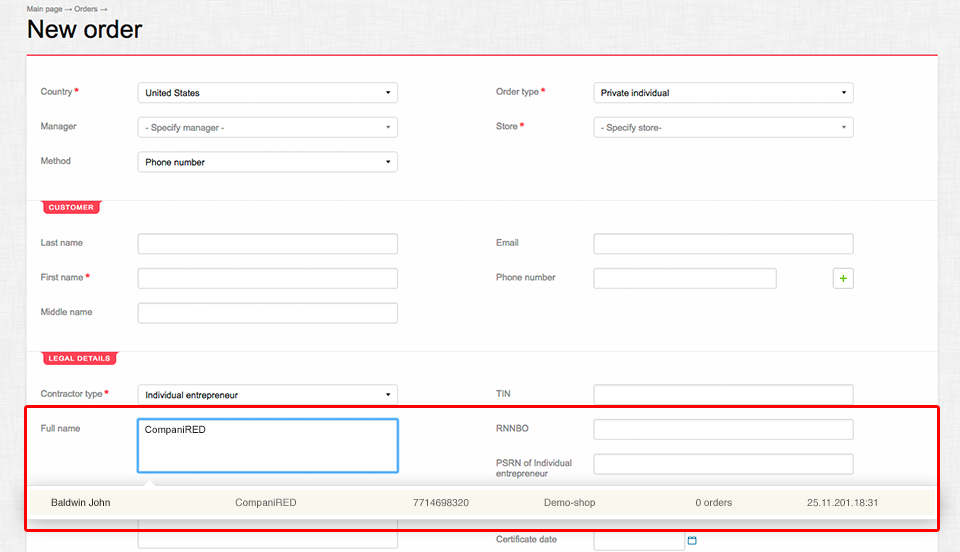 By the way, data on TIN and legal entity is separated from customer's data. For example, if there is an order on two different surnames with the same TIN, the system will find two different orders.
Interface improvements
We have implemented some functions for usability:
1. Customer segments with a customer are displayed in all his/her orders.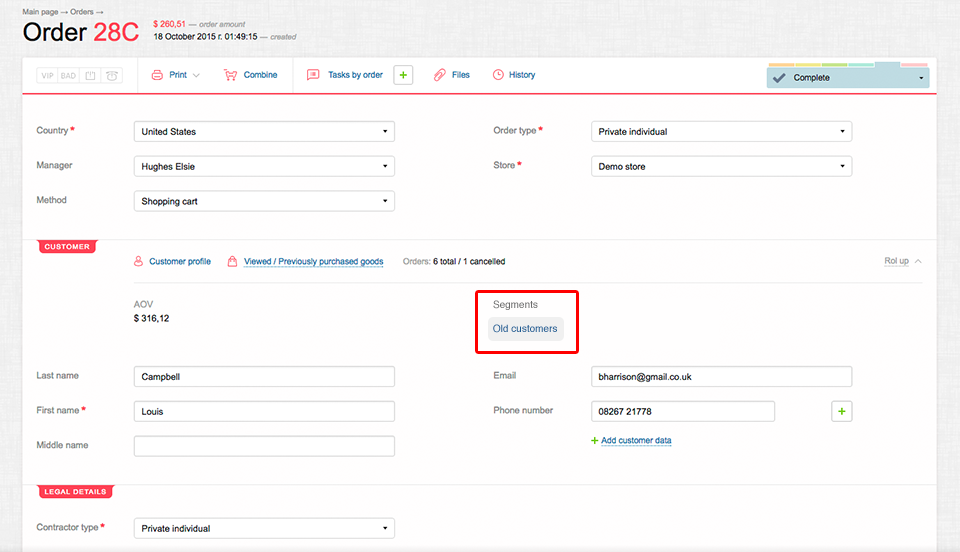 Previously, this information was displayed only in a customer card. And it was impossible to display it in order using filter fields. Now we have added such opportunity and manager can work comfortably only with the order card, without constant clicking to the customer card.
This is especially useful if business processes in your store are based on segments and it is important for manager to know from which segment his/her customer is, by which criteria he was included there and how to work with him/her.
2. Elements in lists can be marked using shift.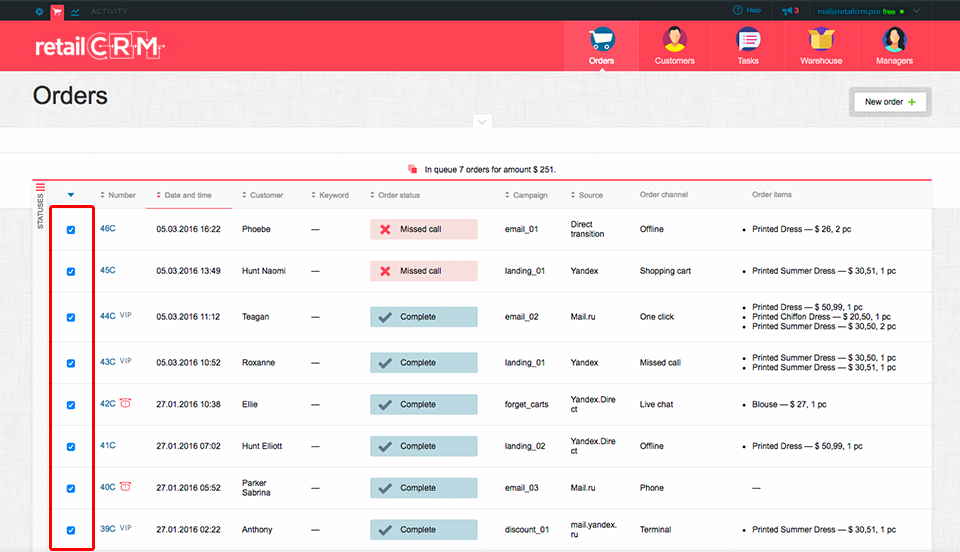 You no longer need to put checkboxes manually in order to conduct a mass operation on orders or other elements. Now you can mark the first cell, hold down the Shift and click on the last one in the necessary range. Everything is simple.
Several improvements on working with files in the system
Since the implementation of opportunity on attaching files to orders and customers, our users have sent many comments for functionality improvements. One of them is displaying the picture type attachments in printed forms. This means that now you can generate your own printed forms with graphic content. This is convenient, for example, when making out a bill, you need to agree on model or color of a good with the customer.
Among other things, if you work with source codes of models, for instance, with ai or psd, then such "heavy" files can be attached to orders and customers now. In addition to above-mentioned formats, retailCRM accepts also other types of documents from Adobe and MS Office.
Now you will always be aware of a file`s size — this information is displayed next to it.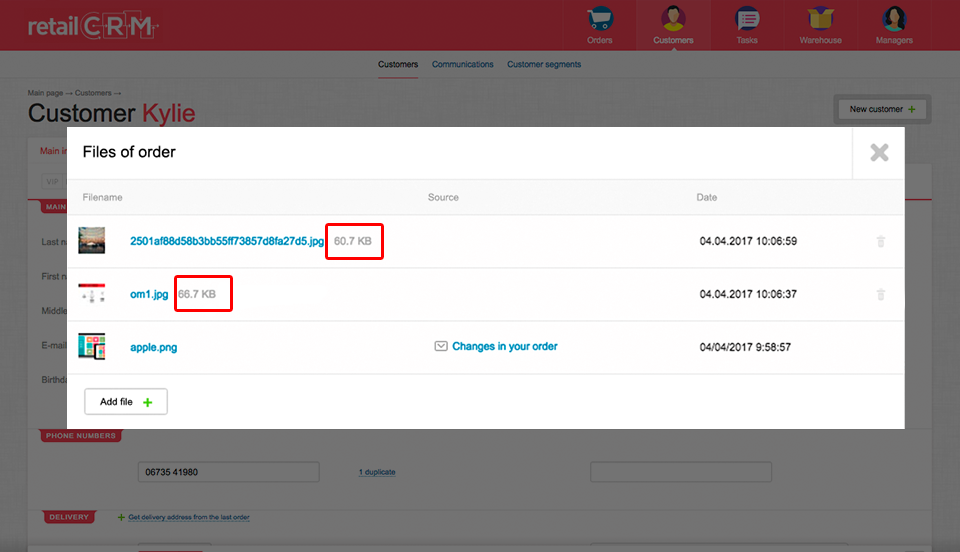 And if employee removes the file, this event will be displayed in the action log.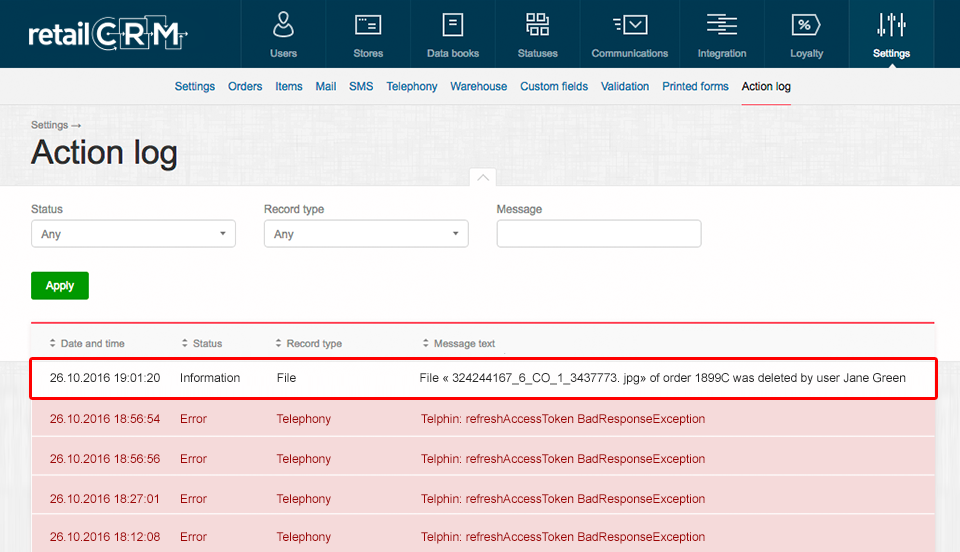 Our action log needs in your questions :) If they have appeared — call us + 44 2070437182 or write to mail@retailcrm.pro. We answer, help and consult.