What is new in retailCRM 6.0
ActionAssistant (an intellectual assistant for getting repeated sales), new customer card, bulk mailings on segments, section with detailed analytics on Email and SMS, new version of API and etc.
---
At the end of May we held a presentation of a new version of retailCRM 6.0.
What is new
Here is the list of all updates in retailCRM. Find out more details about each update below.
ActionAssistant
ActionAssistant is an intellectual assistant for getting repeated sales and working with orders. 6 mechanics are available in increasing repeated sales.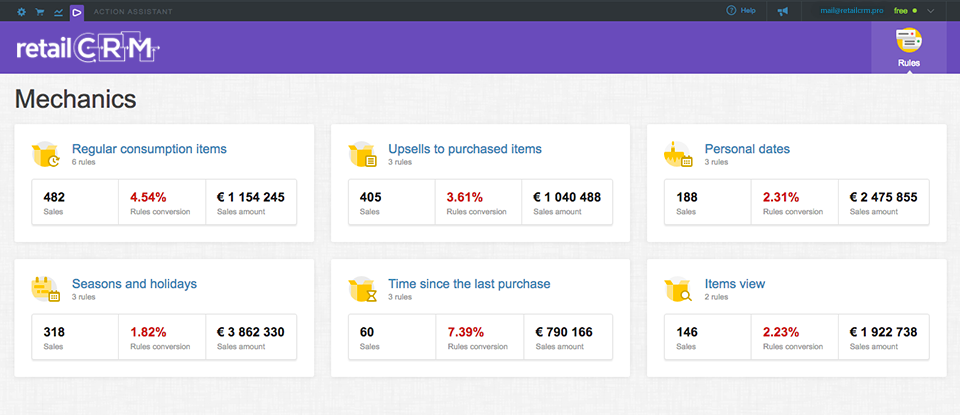 Set up the actions you need for each good or product category. For example, if you have a good of a regular consumption, you can set up an automatic letter sending with an offer to restock. Besides, ActionAssistant will tell you by itself what period of consumption this good has.
ActionAssistant architecture implies constant addition of new mechanics types. In next releases we are planning to add mechanics to prevent possible cancellation of an order.
Bulk mailings on segments
Now there is a possibility of bulk mailings on Email and SMS to any customer segment. Just create or open the necessary segment, select E-mailing or SMS mailing, insert the necessary content there and send it to customers. Before mailing you see how many customers will get the letter and how many segment customers are unsubscribed.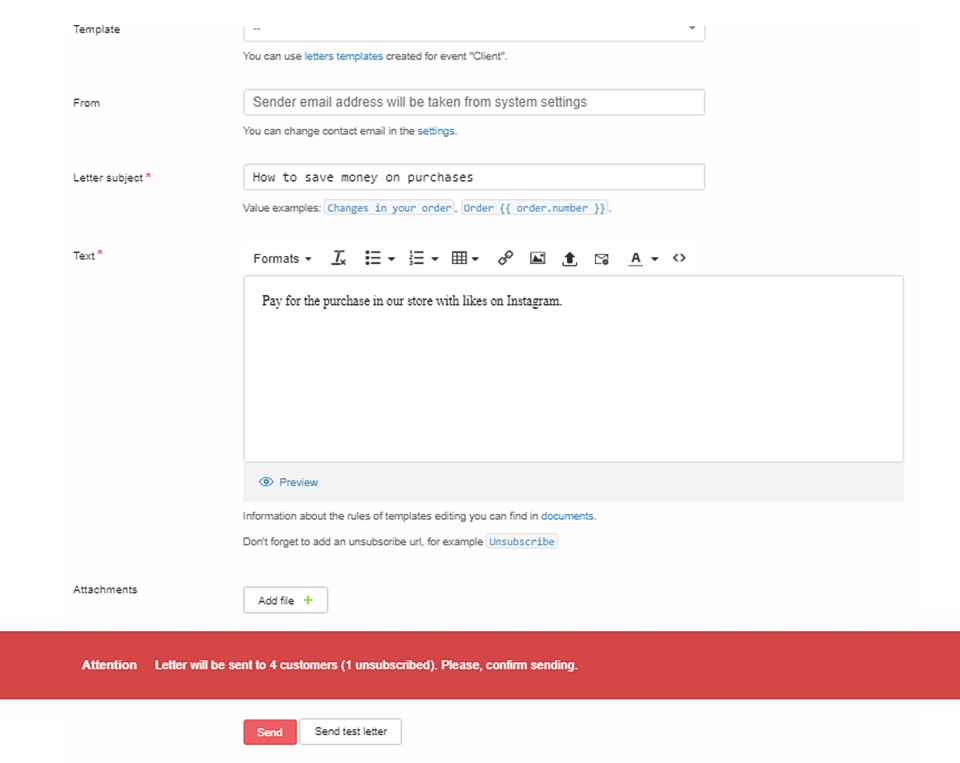 By the way, every customer has a sign of subscription now, which is displayed in customer card and you can insert a button of cancelling subscription in the very letter. Thus, your subscription base will always be clean and up-to-date.
Detailed analytics on Email and SMS
A new section for analyzing mass and operating communications has appeared in analytics. Keep track of mailings and templates effectiveness and improve indicators.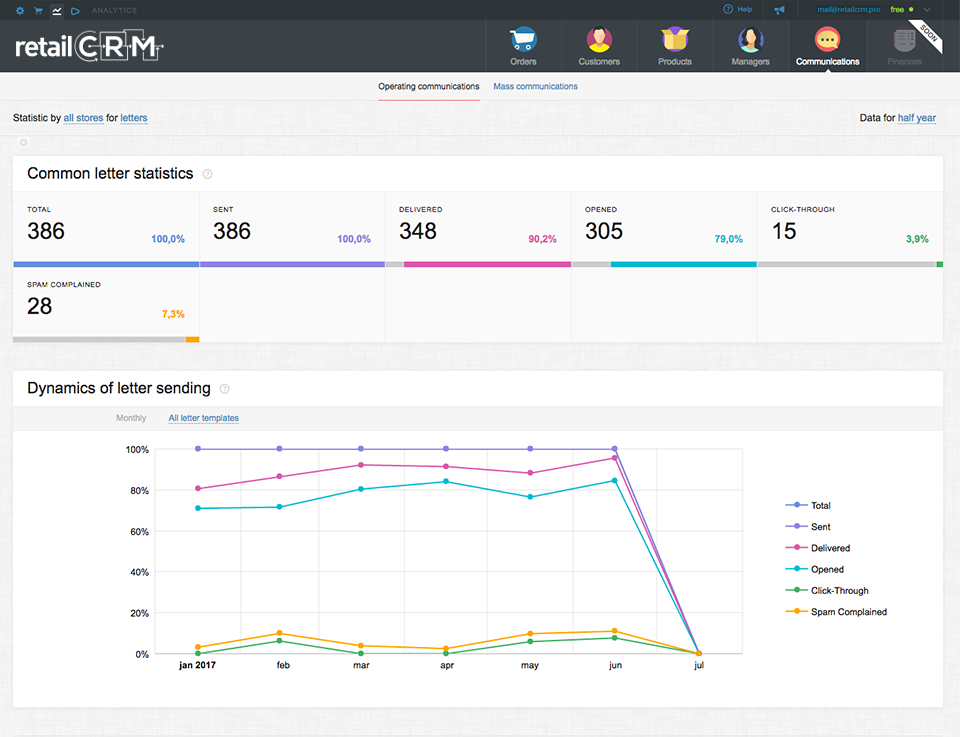 New customer card
Customer card has changed completely. It has become more convenient and informative. It has a timeline, which displays all events in chronological order. Also, the new card displays key customer indicators, while open orders and tasks are grouped in a separate block. You can look at the status of sent letters, open rates and click rates on a customer.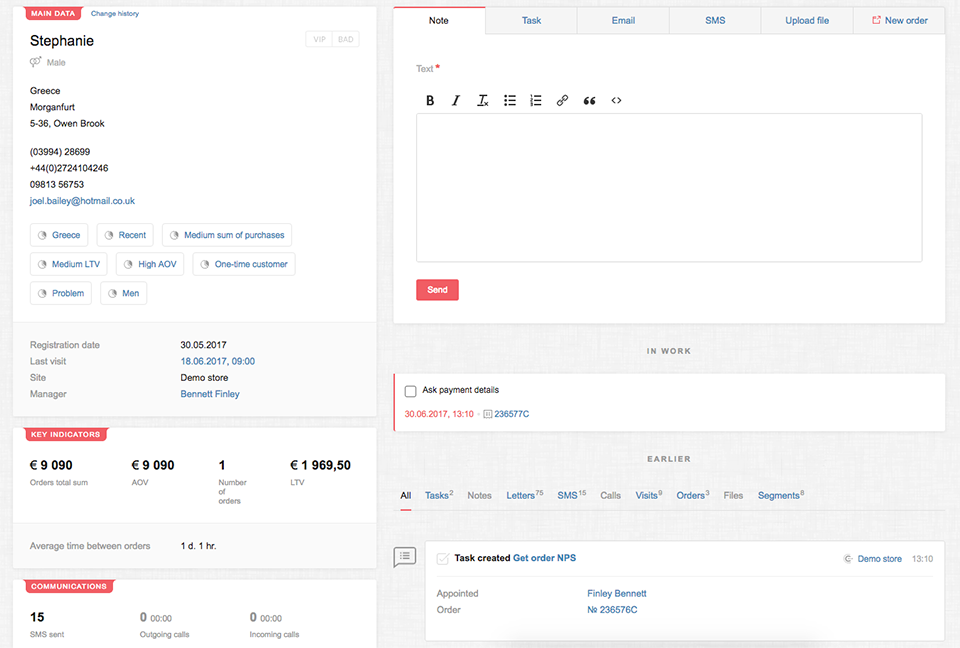 Managing expenses and KPI financial analytics
New section "Finances". Expenses from external systems "pull into" retailCRM by themselves. See ROI and price of each order minus all costs. Profit and loss report will show you to what extent your work with orders is financially effective.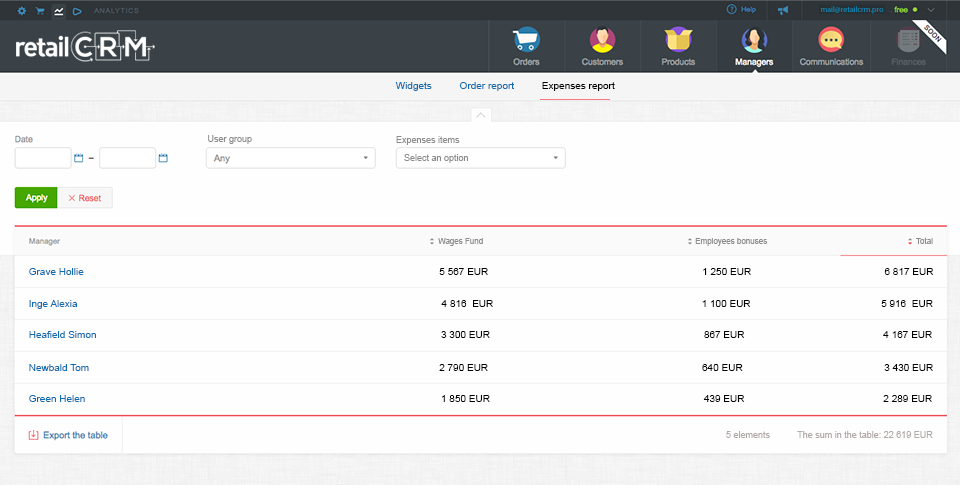 This section will be available soon.
New things in orders processing
A number of updates is about optimization of orders processing.
Working with discounts and rounding. Now discounts for an order are distributed on goods. Issues of rounding in VAT return and distribution of a discount for an order have been resolved.
VAT. Set up your own VAT rate in retailCRM. Use this information when processing orders and registering delivery.
Multiple payments. Accept payment from customers by installments. For example, customer can pay a half of the sum by card and the other half by cash when receiving a good.
Deactivating delivery block. Deactivate this block if you are engaged in selling services, digital goods or this functionality is not necessary for you. The interface will not be overloaded.
Delivery cost from order sum. Specify dependency of delivery cost on order sum.
Separation of orders. You can separate orders transferring some goods to a new order. It is relevant for cases when not all goods from the order are available, but the customer wants to get those that are.
Orders copying. Copy existing orders in a few clicks. You can copy an order in full or only part

of information.
New version of API
API for user fields. Integration modules create the necessary fields by themselves.
API of tasks. Assigns tasks to managers from outside.
API of customer unification. Puts in order the customer base with important data preservation and removal of duplicates.
API for segments. Synchronizes segments with exterior services.
Extended API for trading platforms. Synchronizes catalog with trading platforms, uploads created orders.

API for expenses. Uploads any expenses of online store in retailCRM.
Triggers updates
Expression language has been simplified. In new syntax, expressions are shorter in 2-3 times and, therefore, more clear.
New type of structure is a filter. Work with collections without relying on cycles.
New type of action is an outgoing call, which will work well in conjunction with automatic distribution of orders.
If you do not see a transition button on a new version in your account, please contact technical support. We recommend you to have a look at the checklist before updating.