Why new module "Finances" is useful for stores
New module "Finances" has been developed in retailCRM. Enter variable and fixed costs of online store, calculate efficiency of marketing campaigns and assess to what extent the store successfully works with orders in financial terms.
---
What is new
2 types of costs have appeared in retailCRM:
Variable — vary with growth or decrease of sales volumes, constitute the order cost
Fixed — do not depend on changes of sales volumes
The most popular e-commerce groups and expenses items have already been set in retailCRM by default. In settings you can create and set up independently the required groups and costs items.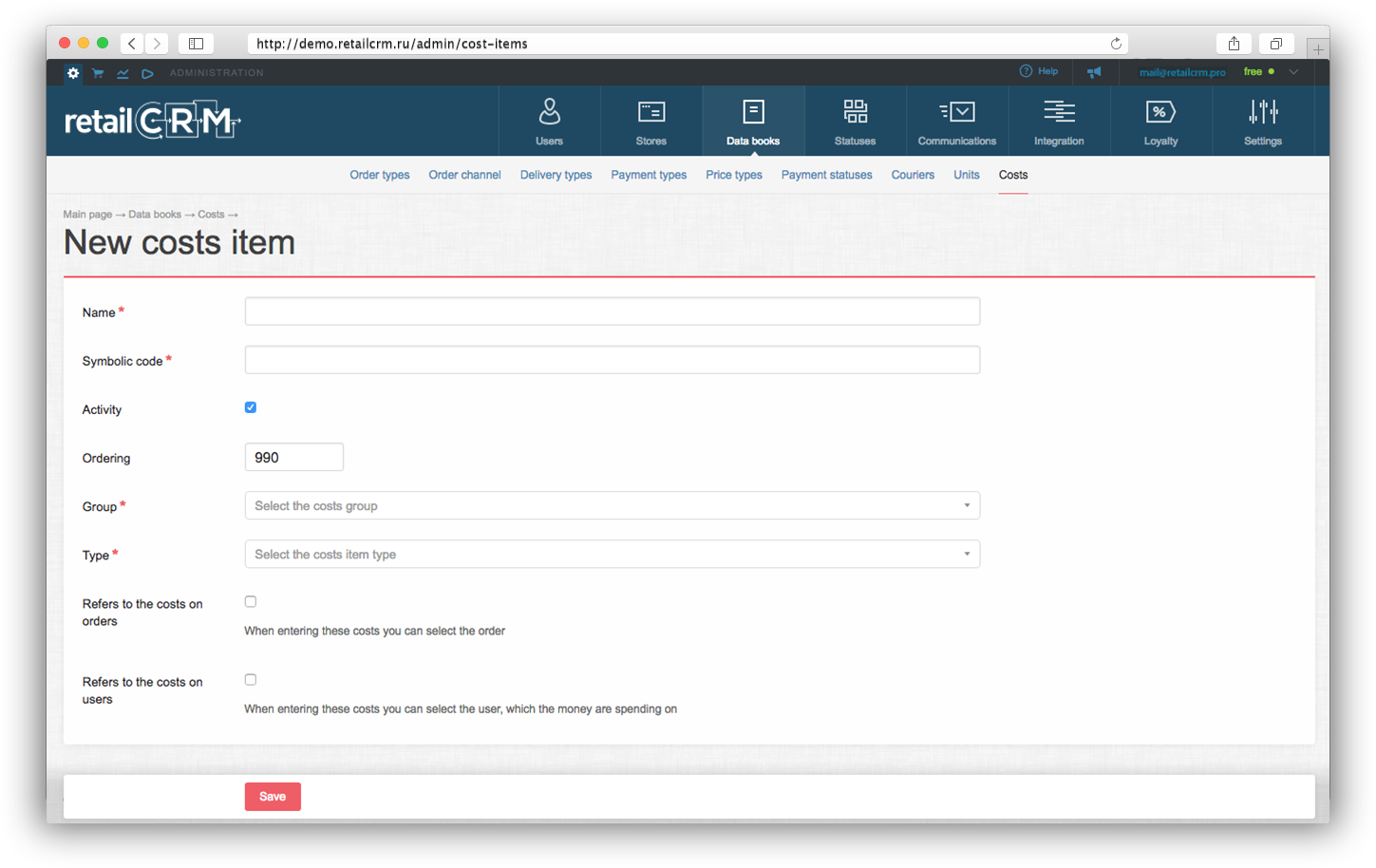 Expenses can be entered in retailCRM using three ways:
manually
via API
by means of triggers (for example, commissions of payment systems, bonuses to employees)
When creating a cost in section "Activity", specify the cost group, item, amount and period. If expenses belong to the group of costs for attracting customers, user will be suggested to enter information on UTM tags.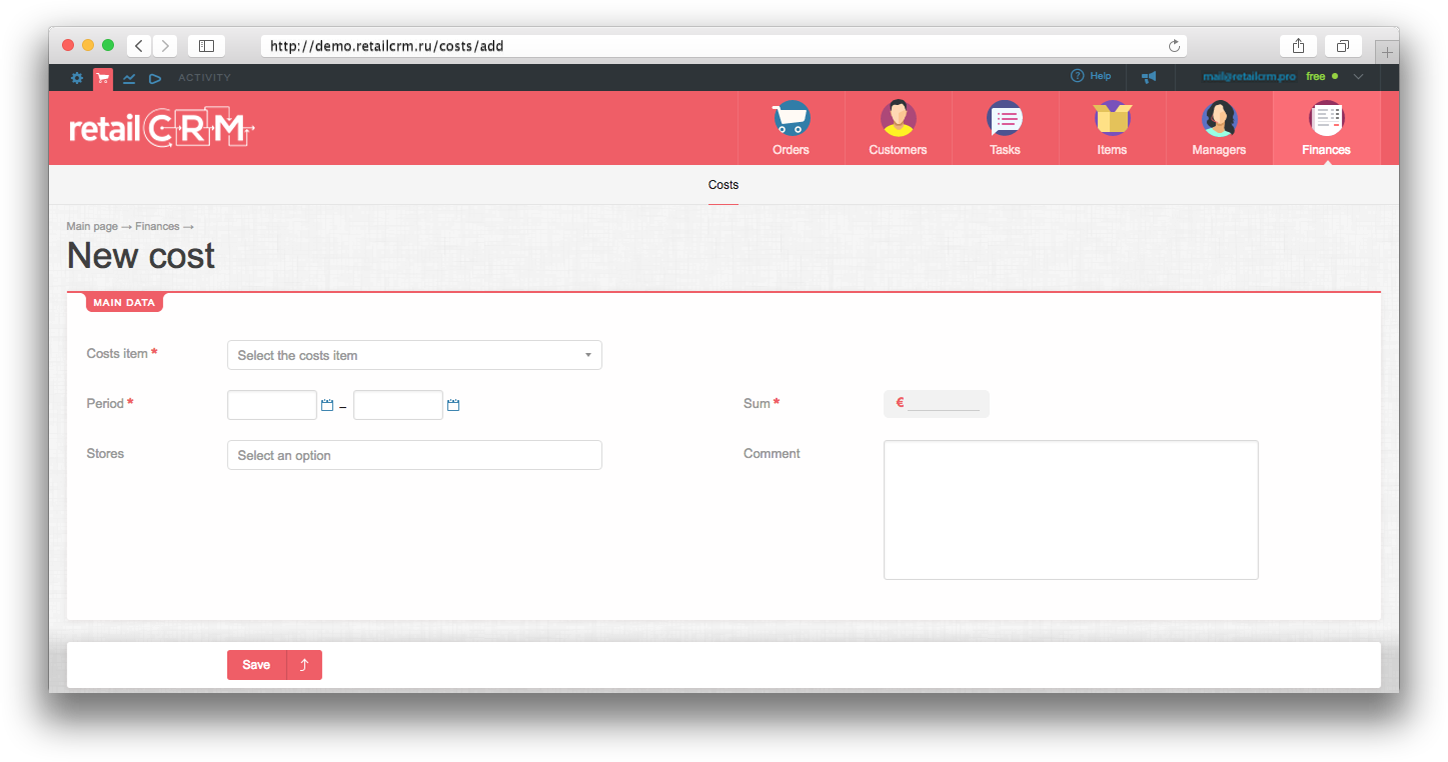 Costs are distributed evenly on days in the specified period.
The detailed instruction for working with the new module is in the technical documentation.
Calculating marketing ROI on advertising channels
Now it is possible to fix advertising costs in retailCRM and compare them with income from advertising sources of orders. Income from order sources is available in retailCRM due to integration with Google Analytics. After the release of 5.0 version, the integration has been improved considerably — now data about events is transferred as well as source / medium / campaign / term / content. Orders from retailCRM are transferred to Google Analytics.
Advertising expenses for orders are taken into account when the order changes its status to "Completed". The cost becomes connected with the specific order via the same UTM tag, specified in the cost and in the order.
Summary information with ROI calculation is gathered in marketing report, in section "Finances". ROI is calculated as the ratio of gross profit to the sum of marketing spend on the advertising source. If the value is more than 100%, then every Euro spent on the advertising brought you more than 1 Euro of profit. If the value is less than 100%, then the advertising is inefficient and brings less than 1 Euro per 1 Euro of costs. These values are highlighted in red colour by default.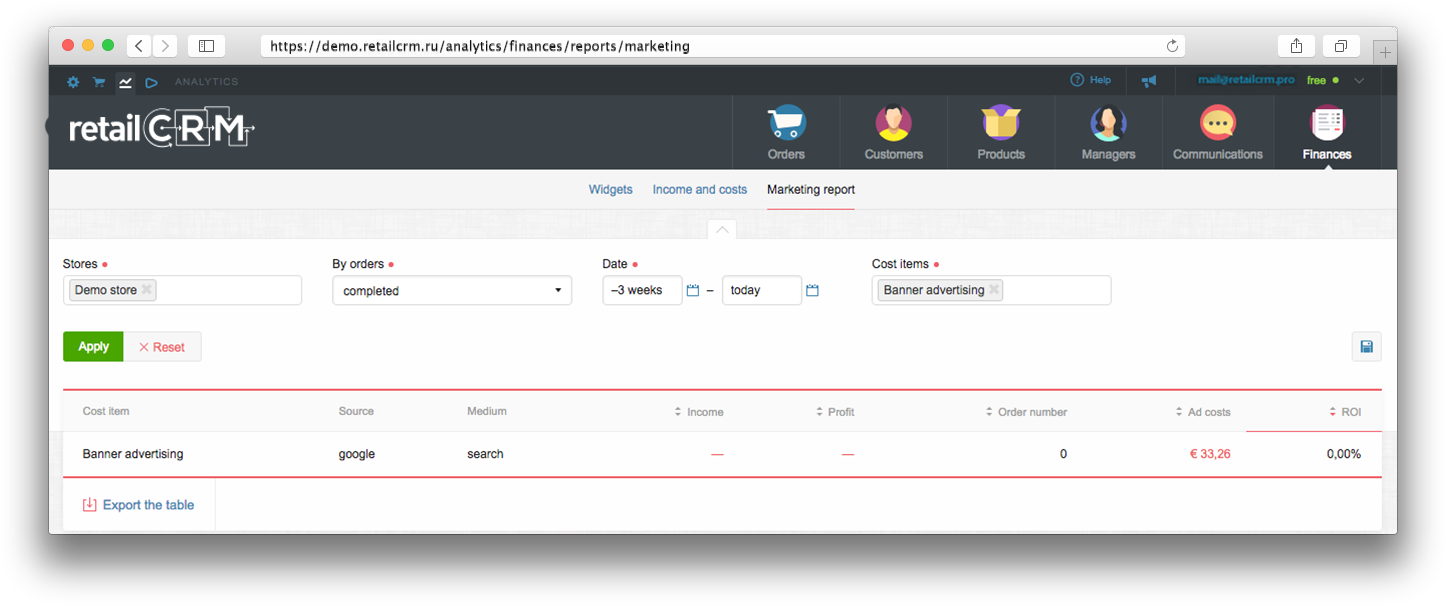 Besides ROI, such indicators as CPO (Cost Per Order), gross profit on advertising source and average order value are available in the report.
Costs are transferred via UTM tags in retailCRM. If you don't want to see costs with zero amounts of orders in the report, make sure that the tags specified in the cost coincide with those you have in Google Analytics.
Bonuses to managers
By means of triggers in retailCRM you can automatically create costs on bonuses to managers for order processing and upsell. It is possible to specify both the sum and the percent of the order. Data on bonuses for the period and on the fixed part of the wage is reflected in "Cost report", in "Managers" tab. The report is available only for the leading staff. Besides, bonuses to employees are aggregated automatically in another report: profit and loss report.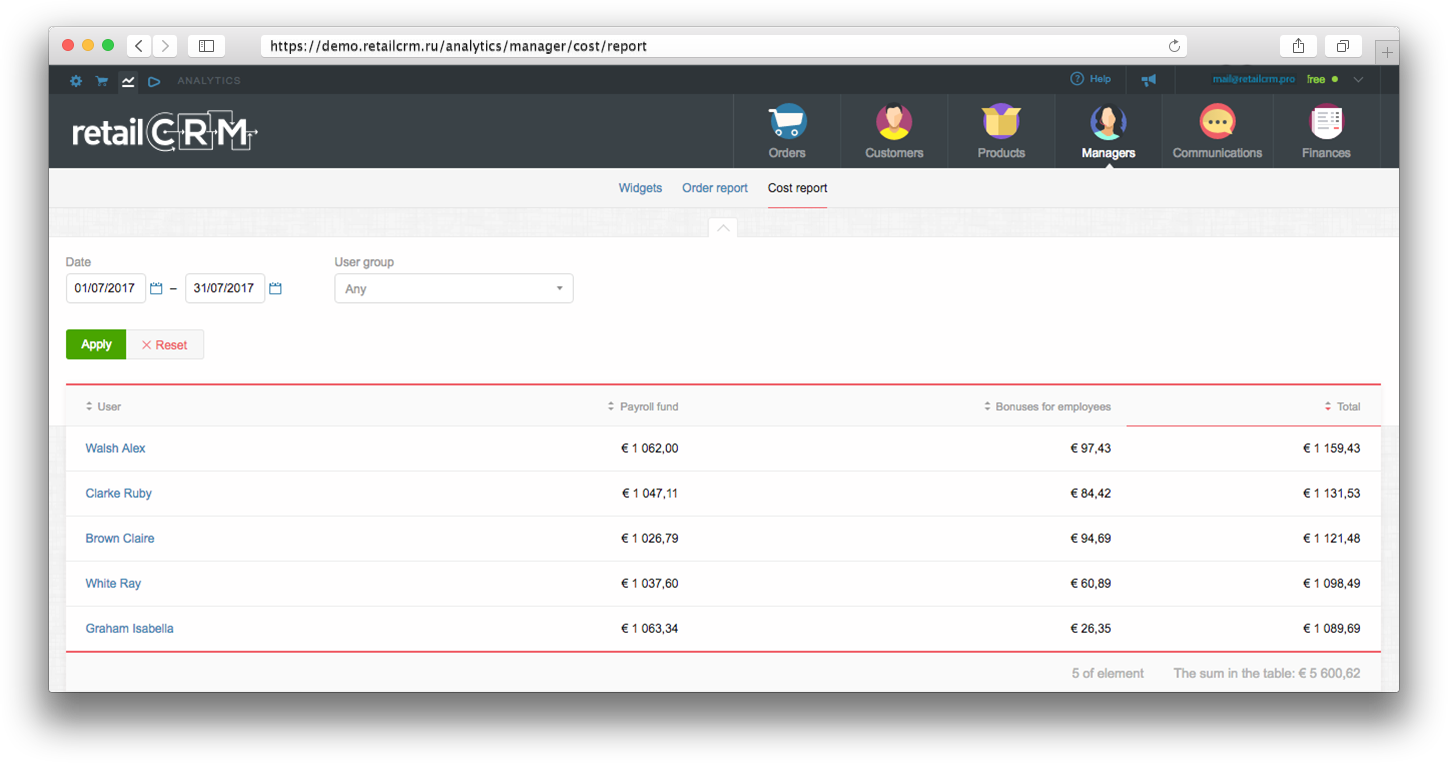 Profit and loss report
All data on revenue from orders, on variable and fixed costs is collected in this report. This data is the basis for calculating gross and net profit. Costs are distributed evenly on days, depending on the period specified when creating the cost. The report is available in the form of monthly report, quarterly report or annual report. Also, there is a calculation of the ratio of a sum of each expense to revenue in order to assess the share of each cost in the total amount of revenue.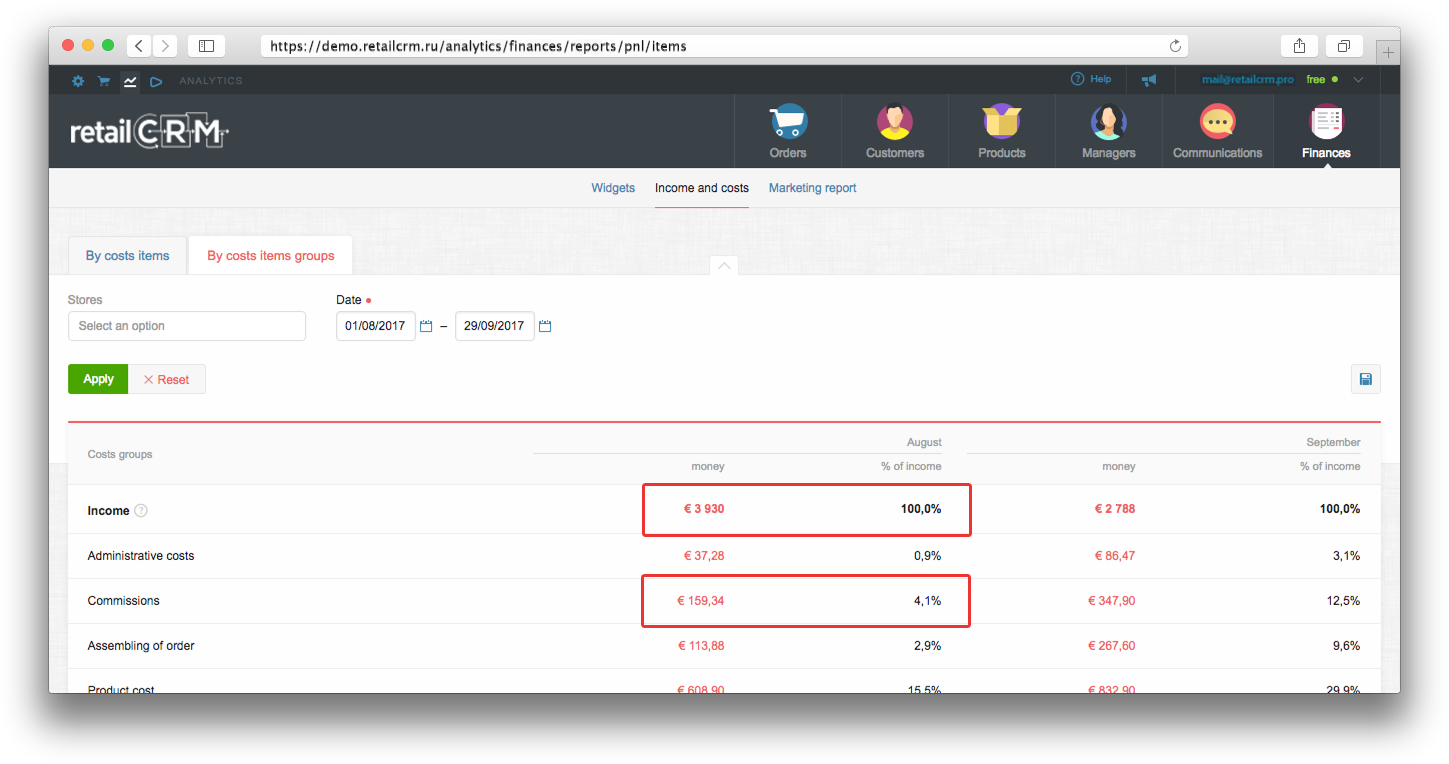 New costs widgets
Income and costs dynamics
By means of this widget, one can see surges in store`s income and costs (sales peaks in holidays, overspend and so on).
KPI on marketing costs items
In this widget it is possible to assess simultaneously the efficiency of the cost item for advertising on several indicators: sum of expenses, income, profit and ROI.
Dynamics of efficiency indicators on costs items
Сompare several costs items on the selected efficiency indicator, for example, which advertising channel brought the largest income or which source has the highest ROI rate.
If you have any questions or would like to leave a feedback, write mail@retailcrm.pro. We will help, prompt and consult you :)